Better Human Portraits Stellaris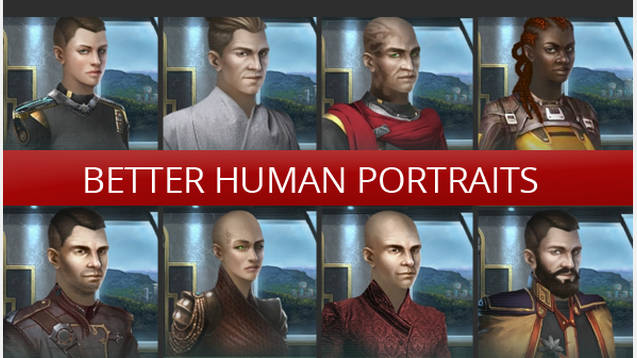 Better Human Portraits Stellaris
This mod:
1. Adds and replaces a large number of new clothes, hair-styles and body types to the human species.
2. Makes each human pop look different according to their individual ethics, government type and government ethics. Pops are also look somewhat different depending whether you play as the UN or a splinter colony.
3. Makes each character look different based on the government type and ethics.
also:
4. Adds some minor tweaks to the default setup of the "Commonwealth of Man" & "United Nations of Earth" factions.
Changes:
============== Current version: 2.1 (current version) ===================
1. Added compatibility with Stellaris patch !!!!!!! 1.6 !!!!!!!!!
=========================================================================
The mod modifies the following script files:
00_prescripted_countries.txt
mammalian_human_female_clothes_01.txt
mammalian_human_male_clothes_01.txt
07_portraits_human.txt