Splendid Parrot Portraits By Artaire/Azul and Revolver77 For Stellaris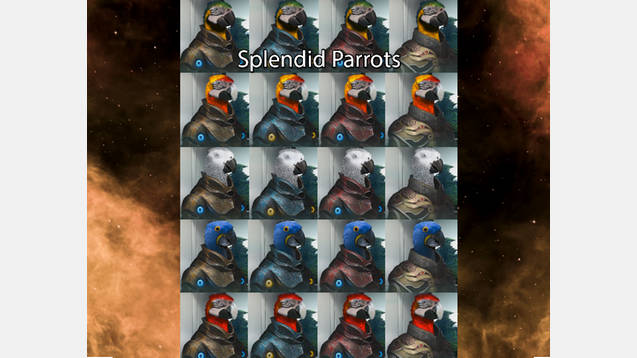 Splendid Parrot Portraits By Artaire/Azul and Revolver77 For Stellaris
So this is a mod from a Zoologist/Ornithologist who was a bit dissapointed with the lack of Parrots in the game, so as a parrot lover I decided to add some in.
What does this mod actually do?:
It adds Six completely new (and real) Parrot species into the game (Primarily Macaws), with a total of 24 different variations. The pre-existing parrot in the game has also had a bit of reworking; the goldfish bowl has been removed from the spacesuit, whilst adding a couple of extra colour variations aswell, bringing the total existing colour variations to 11.
Regardless of the update to the pre-existing parrot species, and the extra ones added in this mod, all are animated using pre-existing species as a template.
I made this as a very casual mod for myself, purely for fun, but thought I would share it, so if you enjoy it please let me know ???? I'm not a modder so there are some issues which are listed below.
Actual Parrot species ingame currently:
Blue and gold Macaw
Congo African Grey
Scarlett Macaw
Shamrock Macaw
Camelot Macaw
Hyacinth Macaw
To be added:
Blue Throated Macaw
Kakapo
Kaka
and many others
Possibly a Corvid portrait pack in the future
Known Issues
Eye animations: Some of the eye animations are imperfect, they will be eventually fixed but it requires a lot of tweaking and fine tuning which will be fixed. Some colour issues onsome of the newer portraits, these will be ironed out at some point.
V1.2 Update
We have decided to remove the some clothes variant portraits as we were not happy with how it translated into the game. The model we based this off was uniquely animated, in a way that makes it so that clothes cannot be enabled via the typical methods, it is one of only a few models that does not have clothes available. The way we got around this was to literally transplant the clothes onto the animated models, it worked for some, less so for others, causing stretching, clipping etc.
Change log:
v1.0: Initial Upload
v1.1: Updated beaks and made them more macaw-like
v1.2: Removed the poor quality cloth models
v1.3: Added Hyacinth Macaw, spacesuit variations and removed some poor quality clothing models