Expanded Hulls – Better Sections For Stellaris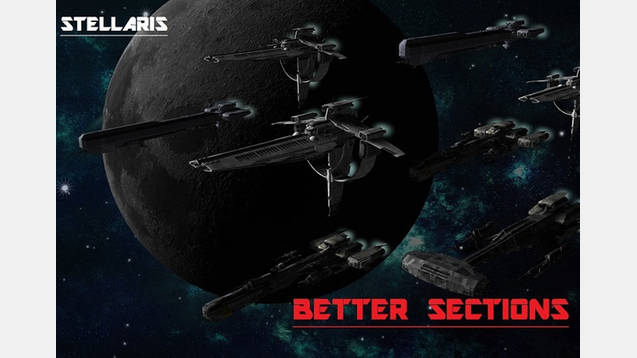 Expanded Hulls – Better Sections For Stellaris
Everyone knows how we only have a few choices for each ship. How choice for the four basic types of ship in Stellaris is woefully lacking. Where are the patrol boats? Where are the Point Defense equipped corvettes? Well, look no further than here.
This mod's purpose is to add in a few new ship hull types. No, not new ships, but rather full mod-compatible ship hulls that will work with ANY ship mod! These hulls are for utility and to fufill specific purposes in your fleets. They include:
Frigates (Trade some Utility size for a Medium weapon slot!)
Patrol Boats (Trade a weapon slot for Utility size! Perfect for defensive corvettes!)
Frontline Corvettes (Trade 2 weapon slots for a point defense slot! Amazing against empires who spam missiles! Also has a little more Utility!)
Defender Destroyers (Bows and Sterns that trade weapons for larger Utility capacity!)
Frontline Cruisers (Once again, less weapons in exchange for larger and more Utility slots! My solution for the carrier-focused enemies!)
Carrier Battleship Bows (Ditch the weapons, go for sheer Hangar capacity!)
Command Battleship Sterns (Less weapons, but more Utility!)
What is best of all is this mod is FULLY compatible with ALL mods, allowing you to swap out these hulls at will!
Have any ideas for hull types? If it's balanced, then pop me a message in the comments below. Who knows, maybe yor idea could become a part of this mod!
===================
Special thanks to Guderian, of Carrier Sections, without whom I could never have figured out the coding. His coding was invaluable!
As always, the picture is not mine. Instead, created by the amazing SharonAgathon on DeviantArt!
===================
Changelog
===================
December 8th 2016:
Fixed Destroyer Sterns acting as bows.
December 9th 2016:
Reduced Frigates to replace 1 Medium Utility for 1 Small Utility. They were just quite simply better than Interceptors!
Fixed Frontline Cruiser parts having 40 Utility slots!
December 10th 2016:
Balance patch! Reduced weights and prices of the battleship parts.