YBeautiful Battles Companion Stellaris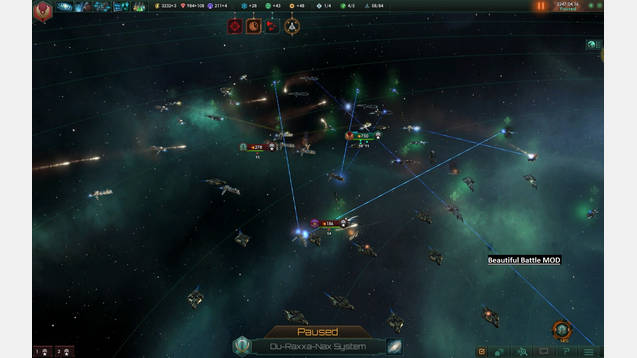 YBeautiful Battles Companion Stellaris
This mod is a companion mod for the ZBeautiful Battles Mod. The aim of this mod is
some minor balancing changes in order to improve the battle visuals in a more extreme
fashion and redress some Vanilla imbalances.
– Updated for Stellaris version 1.6 Adams (7a87)
– Mod version 1.8 (PLEASE REFER TO CHANGELOG FOR DETAILS!!!!!!!)
The following changes were made to improve the overall spacing, flow, visibility and
tactical awareness of battles at a glance ((*****Each file changed is grouped under a
category and labelled by how IMPORTANT and thus OVERWRITABLE they are*****))::::
(*VITAL* overwriting will break the mod*)
(All weapon changes here were applied PRIMARILY for aesthetics / battle spacing / to
reduce particle spam)
-COMMONCOMPONENT_TEMPLATESWEAPON_COMPONENTS.CSV
* Weapon cooldowns increased by a large amount to reduce particle spam.
The above listed changes alter the battle flow and graphics in a pronounced way and
(IMHO) vastly improve the visual quality of battles in Stellaris. With these changes
the following should be experienced:::
– Battles are slightly longer.
– Less Particle spam.
– Battles are clearer.
COMPATIBILITY
Achievement Compatible :: Not compatible.
Save game Compatible :: Should be compatible but no guarantees.