Tiny Spaceport Modules Stellaris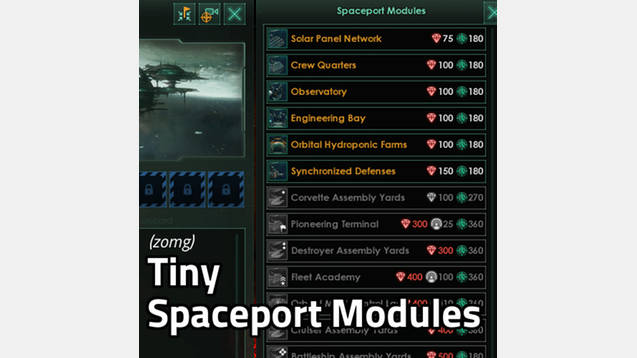 Tiny Spaceport Modules Stellaris
Tinyifies the spaceport module construction list!
Compatible with 1080/1440 addons.
I do not actually play Stellaris, I only make mods. That is how I have fun. Since I do not actually play, I have no idea what would be best for you. Please give me written feedback.
Compatible with Riots Spaceport Modules Extended that adds literally tons of spaceport modules.
Scrolling is dead! Long live tiny things!
I made some addons that tinyify other things:
Tiny Ship Components
Tiny Ship Construction
Tiny Building Construction
Tiny Spaceport Modules
Tiny Planets
Want to take over this mod?
I hang out on the NSC Discord server[discord.gg], almost every day – even though IRC is far superior to this dogshit called Discord. If you want to talk to me, you need to @-mention me, and I ignore most of the channels on the server except the modding-discussion one.
If you want to take over ownership of this addon or any other in my profile, that would be awesome. And you can obviously ask me anything on Discord.
I do not read comments or forums on Steam any more. I can only be reached on Discord.