Systems Alliance (Mass Effect) Ships For Stellaris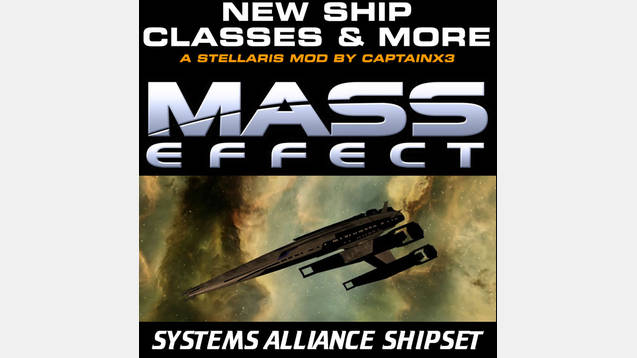 Systems Alliance (Mass Effect) Ships For Stellaris
For those of you who have been playing since launch day, many people fell in love with the original Systems Alliance Ships mod, which was the first fully functional shipset to show up for Stellaris. However, this original mod was taken down due to copyright issues for having been posted without the permission of the original author.
Well now, it has returned from the ashes of oblivion, this time with the full permission of the author of the original models, updated for Heinlein, and fully compatible with New Ship Classes & More 4.0!
Simply subscribe to this mod, and start a new game. Edit your empire and in the Ship Appearance window (the very last option in the Empire Designer), choose the Systems Alliance Ships option. This mod changes all of the vanilla ships and stations to those from the Mass Effect universe, as well as all of the new ship classes from NSC. The only classes that are not changed (due to not having enough extra models) are the HQ Station, Power Station, Mining Base, Sensor Station, and Drydock from NSC.
This mod has been fully tested for use with New Ship Classes & More v4.0 and is confirmed working. It has also been confirmed working on standard vanilla as well.
I also recommend these awesome mods to add more Mass Effect stuff to your game:
Mass Effect Theme Pack: http://steamcommunity.com/sharedfiles/filedetails/?id=794155473
Systems Alliance Name List: http://steamcommunity.com/sharedfiles/filedetails/?id=816669528
The Asari Civilisation: https://steamcommunity.com/sharedfiles/filedetails/?id=790903721
May 9, 2017 – v1.1 – New Save Game is Not Required
Mod updated to Stellaris 1.6 Adams.
This mod was made possible by permissions given to CaptainX3 by Setesh (aka Lord_Set), the original author of the models used. The models are borrowed from the very popular Dawn of the Reapers mod for Sins of a Solar Empire. Many thanks go to that amazing development team for allowing us to do this, and we'd like to provide a link to their amazing mod for Sins players to enjoy.