[S.E.G.O.] Stellaris Economy and Gameplay Overhaul Mod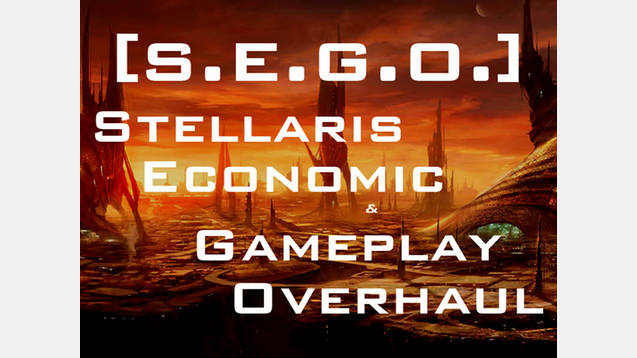 [S.E.G.O.] Stellaris Economy and Gameplay Overhaul Mod
1.2.5 Compatible – *Not Achievement compatible*
NOTE: Since this mod aims to overhaul a lot of aspects of Stellaris it's a permanent WIP, expect new content and fixes soon.
New images featuring the new content
—————————————————————————-
Stellaris Economy and Gameplay Overhaul [SEGO] it's a mod that aims to make Stellaris a more deep and strategic game, if you enjoy a bit of micromanaging and would like a more challenging game this is your place.
The more notable change of this mod is that now its pretty rare getting minerals or energy directly from planets and asteroids, instead you will note the addition of a bunch of strategic resources varying from "iron ore" to "electronic components" and much more, those resources can be found naturally and some need to be manufactured on your planets giving you minerals (that in this game are more like building materials) in the process.
The manufactured resources can be used to build special things like for example spaceport modules to buff your ships, special buildings (you need one of those in order to build robots) or new army types.
One of the end-goals of this mod its to encourage the players to make specialised worlds (like in w40k for example) making all the buildings planet unique and adding buildings to allow forge worlds (high industry), civilised worlds (high happiness, low ethic divergence, high xeno attraction(not like in w40k :p )), and so on.
On a side note this mod is intended for multiplayer, but the AI Empires works fine with the changes and it's (or should be) perfectly playable on single player (look for the sector issue below).
Current Features:
> 34+ strategic resources
> 65+ techs to the game
> Now all the buildings on the game are planet unique
> 90+ new buildings
> 2 new army types (tanks for attack and bunkers for defense)
> Now armies can have a total of 3 attachmets when they rank up
> 7 new army attachments
> Ethic-unique buildings for customizing your empire
> Custom policies for customizing your empire
> Rebalance of all the existing buildings
> Rebalance of all the existing Spaceport Modules
> Rebalance of all the armies and attachments (you need a bigger attack force in ground combat/use attachments now since defensive units are very resistant, you are warned!)
> AI Empires builds and works nicely with the strategic resources
> You are able to colonice every "normal" planet with the first colonization research, but habitability changes depending on your main planet (Continental preference has a medium habitability on all planets given the presence of all biomes in their natural habitat)
> Technology for colonizing asteroids with unique buildings for them. (there are 3 types of asteroids with different strategic resource spawns)
Coming soon:
>More types of spaceport modules (civilian and military related)
>More types of buildings
>Overhaul the colonization system
>More army attachments
Future Features:
>Make events and planet modifiers that simulate civilian life on your planets (contraband, criminality, social issues and more)
>Make event when you colonize a planet (like galactic civilizations)
>More
If you have any suggestion feel free to say it, I'm always looking for new and good ideas.