Planetary Diversity For Stellaris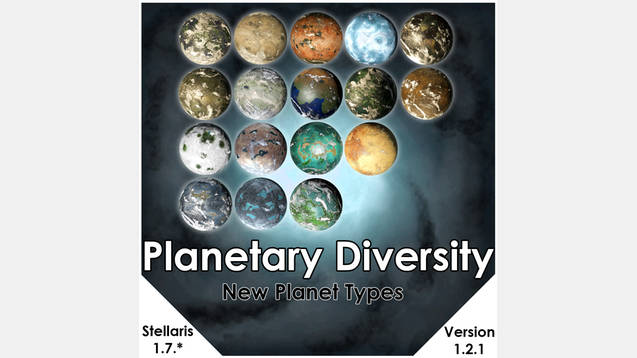 Planetary Diversity For Stellaris
Stellaris: 1.7.*
Mod Version: 1.2.1
This mod add 17 new planet types to the game.
15 sci-fi single biome planets you can start on, 2 exotic life type planets you can start on.
a) The single biome planet types have mixed preferences. Mixed have 50% habitability for each of the two types it represents. You can start on them and primitives will spawn on these planets with habitability traits for each planet type. You can genetically modify species to have these traits.
1. Mangrove – Wet
2. Cascadian – Wet/Cold
3. Swamp – Wet/Cold
4. Geothermal Arctic – Wet/Cold
5. Sub-Arctic Ocean – Wet/Cold
6. Mesa – Wet/Dry
7. Oasis – Wet/Dry
8. Desert Islands – Wet/Dry
9. High Altitude Jungle – Wet/Dry
10. Sand Sea – Dry
11. Frozen Desert – Dry/Cold
12. Steppe – Dry/Cold
13. High Altitude Desert – Dry/Cold
14. Antarctic – Dry/Cold
15. Glacial – Cold
b) The 2 exotic life type planets have perfect habitability for their type but they are virtually unable to live on any other type (except Gaia and Ringworlds which is hardcoded, sorry if that breaks RP for you). This feature is not balanced, this for roleplaying. The races will still just be random like all the rest. You can also genetically alter species to the habitability traits. You cannot terraform Oxygen-Nitrogen planets to these types, and vice versa.
1. Ammonia – Black oceans, dark green vegetation.
2. Methane – Brown/orange and hazy (based on pictures of Titan).
– AI seems to handle exotic types but please give me all the feedback you can about them.
– I've tried my best to make this balanced and be as vanilla friendly as possible. I have some ideas to expand this mod but I'm also open to suggestions if someone proposed some good balanced ideas for other planets and would love feedback on balance.
– Also, I know the tomb world on the empire creation screen is blue, I don't know why. It's in the base game files and don't want to mess around with it if I don't have to so the mod is more compatible with other mods.
Because of the nature of planet generation/habitability traits this mod changes a couple of game files and most likely will not be compatible with any other mods that create other planet types. Here are base files that are modified.
commondeposits0_deposits.txt
commonplanet_modifiers0_planet_modifiers.txt
commonstar_classes0_star_classes.txt
commontile_blockers0_tile_blockers.txt
commonhabitability_traits0_habitability_traits.txt
Special thanks:
Don Artemio – for Russian translation.
Draco Lander – for Polish translation.
Joky – for French translation.
duffymcdave – for German translation.
Aranha Maluco – for Portuguese translation.
Alguerath – for Spanish translation.