More Leader Traits (With legendary leaders) For Stellaris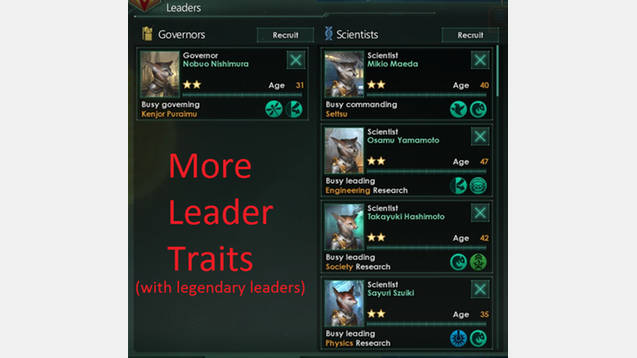 More Leader Traits (With legendary leaders) For Stellaris
A bit more advanced version of my "More Leader Traits" mod. Still gives all leaders 2 traits, and all rulers 3 traits, but they also have a chance to get a trait named "Legendary Leader" that gives them two more traits.
Should be compatible with any other mod that does not change the max amount of leader/ruler traits.
Works for patch 1.6.*
Known bugs:
-Having more than 3 traits makes the first two traits unreadable in the leaders UI window. They can still be read in all other menus.
-Most likely unbalanced. Have not been able to find a good way to reduce the chance of leaders getting the "Legendary Leader" trait. The only way to decrease the chance of getting this trait, is to increase the amount of traits available.
For other versions of this mod, check out this link.
This mod also adds more negative traits for your leaders, adding more flavor to them.
Also check out one of my other simple mods:
-[4 Ethic Points] allows you to choose 4 Ethics for your faction instead of 3.
-[Faster Leader Pool Replacement] reduces the time for recruitable leaders to be refreshed from 10 to 3 years.
If anyone would like a version with different values, just tell me and I will upload one as soon as possible.