!Icen-SSAB-Alphamod-Utopian-Dream-Compatability-Patch Stellaris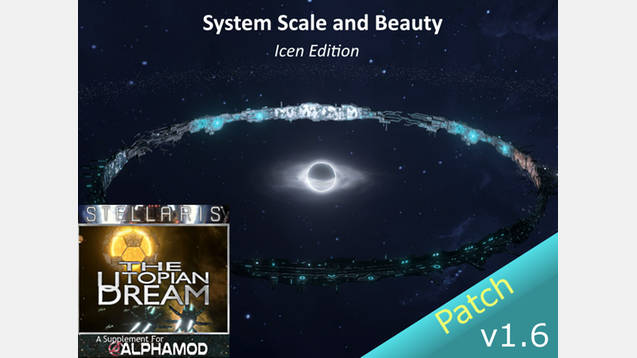 !Icen-SSAB-Alphamod-Utopian-Dream-Compatability-Patch Stellaris
Patch for Alphamod Hostile Worlds and Icen System Scale and Beauty to work properly with each other.
What this patch does
– Overrides Alphamod planet_class to make all planets and stars to the ISSAB scale.
Notes:
– Due to the current bug within the Utopian Dream mod itself, the equitorial shipyard will sometimes only spawn 1 ring around the planet and render the other ring unclickable and without a model. I have tried to counter this bug so far by manual overriding a lot of existing ship types to the code.
Changes:
– Removed the temporariy "fix" I added for equitorial ringworlds in favor of the authors original fix.
The Following are what is registered in the code for the Equitorial shipyard
– NSC Ship Types
– Elves Ship Type
– Star Falls Ship Types
– Sins of the Solar Prophey Ship Types
– Imperial Navy Ship Type
– Empire Ship Type
– Rebel Ship Type
– Legend of the Galactic Heroes Ship Types
– Gundam Mod Ship Types[/strike]