War Name Variety (No More Brawls) Mod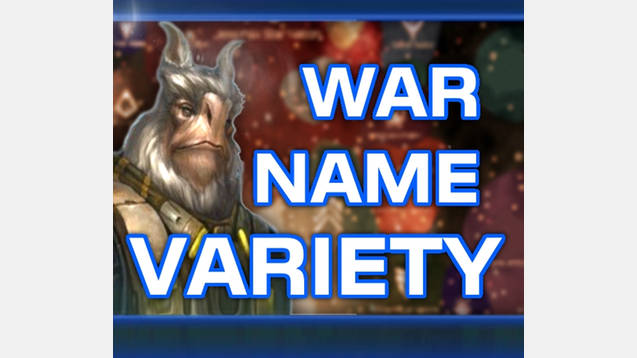 War Name Variety (No More Brawls) Mod
Wars feel a lot more serious with a bit of naming variety!
It started off as a very minor thing – a devastating war between my empire and another's. It needed a fitting name, but all it got was a 'brawl'. After I had removed that, I saw I could make a few other changes as well…
War names are more interesting – and more logical too
This mod adds over 50 new possible war names, in dozens of formats – many of which you can see in the images. There will be galactic wars, rebellions, invasions, revolutions, even crusades. And that's not all.
Names aren't just chosen randomly. A rebel fighting its overlords could get a Revolution. An empire reclaiming old territory could get a War of Reunification. Subspecies can fight for superiority in a Eugenics War, while vast federations clash in a Grand Invasion.
Newly updated with Holy Wars
The latest update brings a number of fixes, improvements, and new war names of every variety. Also included are war names for fallen empires and the machine conciousness. More importantly, it brings the first of the war names based on government type!
Now, spiritualist governments can declare holy wars or crusades, while materialist governments can seek a God-Killer's War. Meanwhile, two spritualist governments could wage a War of Gods themselves. That's not all this update adds – there are a total of 14 new war names for religious governments.
I plan to add even more in the future, based on different government types, ethics, species, wargoals, and more. Have a suggestion? Make it down in the Suggestions thread, and it could be in the next update.
Rate and Enjoy!
If you appreciate this mod, give it a thumbs up (the little button beneath the images). I appreciate every one, and they let me know I'm going in the right direction.
You can favourite the mod so you know when it updates, and follow my workshop for new mod releases. Found any bugs, or perhaps just want to say something? Make a comment!
DOES work with existing saves.
DOES NOT work with achievements.
It should be compatible with any other mod, as long as they do not modify war names.
Other Languages!
Deutsch-Übersetzung, translated by JareeZy
Traducción Española, translated by Larito Provo