V-Mods Species For Stellaris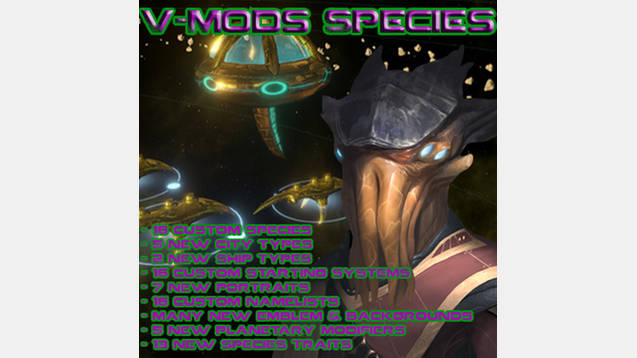 V-Mods Species For Stellaris
12/05/2017 – BIG UPDATE – please read the Info & Changelog
Link[vmods.blog]
This Mod adds 16 new, custom made species inclusive unique namelists, traits and much more to Stellaris!
Every Species comes with a individual story, which is soemtimes connected to the others. Take out your old rival or restore your species lost empire – there's a lot of lore for roleplaying!
For further Info, check out my site: V-Mods.
Install Info:
This Mod contains only the basic files (like traits, namelists, System initializers etc.). To use one of the custom species, click on the pic below and subscribe the specific mod. If you like to have them all, check out this collection.
You also have then to activate the species separatly in the launcher.
Available Species:
Featuring:
BJR – Golden Avian Ships, shiptype by Bjusterbaarlik
More City Types, citytypes by Jay
The Pallid, custom race by Krabiel
Human Revolution, portrait by stallfish & Killorado
Flags: Emblems & Backgrounds, by swefpifh
Xenon Sector, by Di Crash
Elves of Stellaris, by TheGrandN
Thanks a lot for your great work!