UI Overhaul 1080p Mod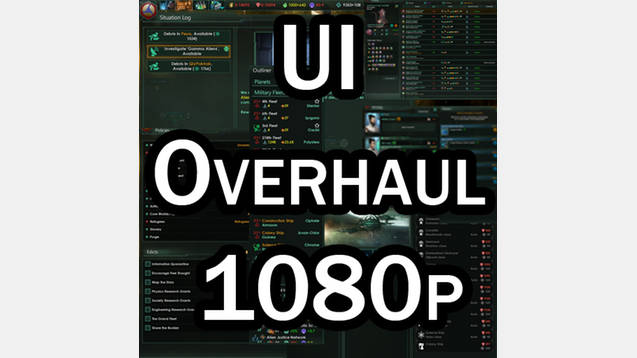 UI Overhaul 1080p Mod
Overhauls the UI to scale for 1080p resolution. Expands most windows to minimize the amount of scrolling needed while showing as much information as possible.
[discord.gg]
Lead Author : Dr. Maple
Original Author: Tyrus
Updated for 1.7.2 Bradbury
Custom Ship Designer
Expanded Outliner
Ironman/Achievement Compatible
Ship Designer
Ouliner
Empire
Technology/Research
Situation Log
Policies and Edicts
Planet
Species
Species Mod
Leaders
Combat View
War Demands
Expansion Planner
Traditions
Contacts
Planets and Sectors
Factions
This mod is for use on 1920×1080 resolution or higher. If you're having issues with windows being unusable, your resolution might be set incorrectly in your in-game settings.
If you're having issues updating the mod or the mod says it's outdated
Unsubscribe from the mod in the Workshop
Navigate to (DocumentsParadox InteractiveStellaris)
Delete the "mods" and "workshop" folder. Warning: This will delete any mods you have uploaded yourself. Make sure to back them up!
Resubscribe to the mod on the Workshop