More Trait Space Mod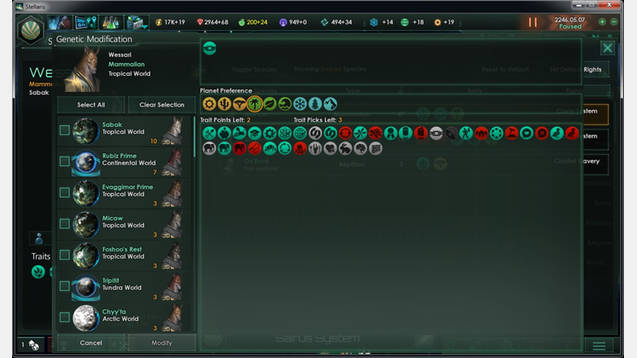 More Trait Space Mod
Modifies the uplift/genetic modification window and the trait selection screen of species creation to show more traits. Meant for use with mods that add lots of traits.
Genetic modification window has the contents rearranged, and fits up to 75 applied traits and 375 available traits. Trait selection screen has tweaked trait details box, and lengthened available and selected traits scrollboxes. The lengthened scrollboxes go over the other species info, but function properly.
Now also extends the civics selection box in the species creator and reform government.
Fits within 1280×720 resolution.
Files modified:
interface/customize_species_editors.gui
interface/government_mod_window.gui
interface/species_mod_window.gui
Probably Ironman/Achievement compatible, since only UI files are changed, but not tested.