Tiny Outliner Mod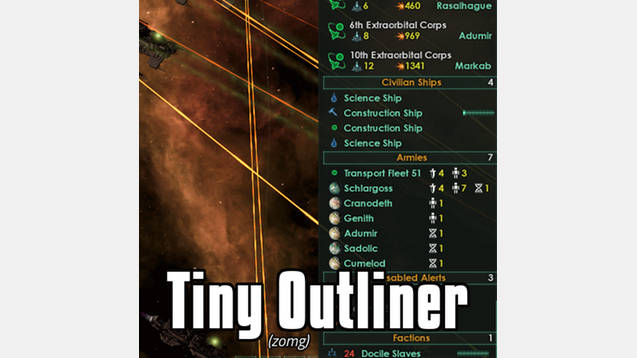 Tiny Outliner Mod
Tinyifies lots of stuff in the Outliner!
Compatible with 1080/1440 addons, my Tiny Planets (in Outliner) addon, and most likely every other addon you can find.
Moves the war icons and federation icons from the bottom right corner and up to the top LEFT corner of the screen.
Moves the music player to the lower RIGHT corner of the screen, courtesy of DrMaple/1080p mod, with permission.
The mod is compatible with Ironman-mode and achievements.
This mod does NOT touch the planets or military fleets. On purpose, because I figured many people want those to be big-ish.
I do not actually play Stellaris, I only make mods. That is how I have fun. Since I do not actually play, I have no idea what would be best for you. Please give me written feedback.
So this mod tinyifies the following items:
Civilian fleets (science, construction)
Transports (armies)
Observation posts
Disabled alerts
Factions (doesnt really make them smaller but tidies them up)
Terraforming
Sectors
I was thinking I should probably do the subject integrations as well, but frankly they dont concern me that much.
The mod also moves the outliner window up to the top right corner, like the UI Overhaul 1080p mod by DrMaple.
Thoughts? Suggestions? Let me know!
I made some addons that tinyify other things:
Tiny Ship Components
Tiny Ship Construction
Tiny Building Construction
Tiny Spaceport Modules
Tiny Planets
Want to take over this mod?
I hang out on the NSC Discord server, almost every day – even though IRC is far superior to this dogshit called Discord. If you want to talk to me, you need to @-mention me, and I ignore most of the channels on the server except the modding-discussion one.
If you want to take over ownership of this addon or any other in my profile, that would be awesome. And you can obviously ask me anything on Discord.
I do not read comments or forums on Steam any more. I can only be reached on Discord.