TFW's Bunch of Ship Parts Mod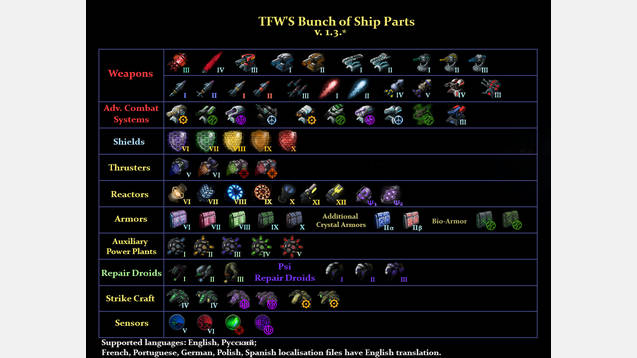 TFW's Bunch of Ship Parts Mod
TFW_BOSP_MOD
Game v. 1.6.*
This mod focuses on the mid-late game. Its main goal is to diversify your gameplay, bringing to the game some new tactics and ethic-related ways to destroy your enemies. If they wouldn't, just tell me about it and I will fix it. Or not.
################################################################
Compatibility with other mods:
Mod replaces only several sounds of vanilla point-defence weapons. It should be compatible with all other mods.
Short list of them:
Crystallis Ship Parts: Compatible.
ZBeautiful Battles: Compatible.
YBeautiful Battles (companion): Compatible, but unbalanced.
New Ships Classes and More 3.0: Compatibilty Patch.
Advanced Weapons: Compatible.
Improved Space Battles – Balance: Compatibility patch.
Other parts of ISB: Compatible.
Fight For Universe: Infinite Legacy: Current version of this mod doesn't make changes in the weapon balance.
Ship Power Stations: Compatible. My reactors are included in this mod and can be used as additional (OP warning!).
25 More Reactors + New Techs: Incompatible in reactors part. Use it with my separated modules.
################################################################
Addons:
Guardians Buff Addon
Fallen Empires Buff Addon