Stone's Politics Xpansion Stellaris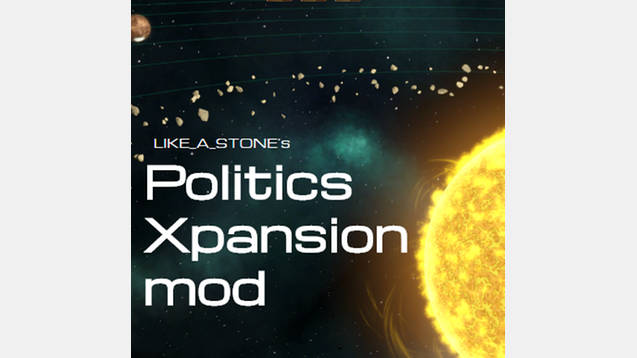 Stone's Politics Xpansion Stellaris
Stone's Politics Xpansion
This mod is an attempt to expand the political control the player has over their interstellar empire, and increase this terriffic game's role-playing potential.
Mod Features
8 new empire-wide Edicts, a unique one for each Ethos group.
2 planetary Edicts to allow the player to exempt a planet from taxation or invest influence to expand border reach.
10 new Ruler Traits, including negative traits such as Insolent, Micromanager, Corrupt, and Sketpic.
8 new Policy groups to allow players to tweak their empire's Social, Tax, Political, Trade, Diplomatic, Economic, Infrastructure, and Fleet Readiness policies based on the strategic situation.
6 additional government types (3 initial and 3 advanced) to give Collectivists, Individualists, and Xenophobes unique government opportunities.
Upcoming Features
New political events to increase the role-playing opportunities in Stellaris
New political crises for the mid to late game
Unique Edicts and/or Policies for each Species group (Mammalian, Avian, Fungoid, etc.)
Thank you very much for the support, and to Paradox for making this great game. If you like the mod, give it a thumbs up or a favorite!