Simple Armor & Shield Overhaul Mod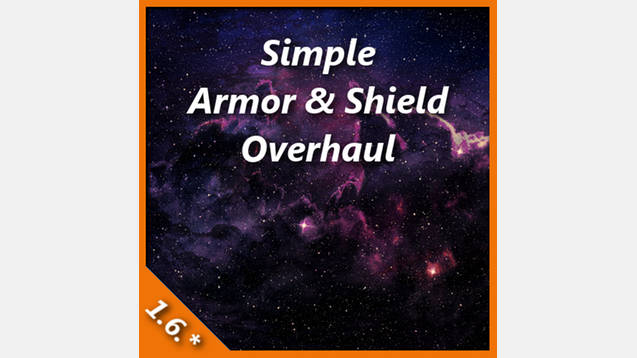 Simple Armor & Shield Overhaul Mod
For 1.6.*
Please rate the mod. Even a dislike is more than welcome, but if you decide to leave a dislike could you please tell me why you did so in the comments? Constructive criticism is the best way to improve this Mod.
You do NOT have the permission to use ANY of my work to make your own Mods. Please ask first. Thanks 🙂
Description:
This is a small and simple little Mod that I made mostly for myself. It overhauls Armors and Shields to make them a bit stronger and give a better sense of progression. Armor now gives a small amount of Hull Points and the actual Armor amount added got increased to that of the next tier. That means that the tier one Armor now has the stats of the tier two Armor and so on. Shields had their HP and Regeneration values adjusted.
Armors:
Tier 1 "Nanocomposite Armor":
Small = 2.5 Armor | 10 Hull
Medium = 5 Armor | 20 Hull
Large = 10 Armor | 30 Hull
Tier 2 "Ceramo-Metal Armor":
Small = 3 Armor | 15 Hull
Medium = 6 Armor | 25 Hull
Large = 12 Armor | 35 Hull
Tier 3 "Plasteel Armor":
Small = 3.5 Armor | 20 Hull
Medium = 7 Armor | 30 Hull
Large = 14 Armor | 40 Hull
Tier 4 "Durasteel Armor":
Small = 4 Armor | 25 Hull
Medium = 8 Armor | 35 Hull
Large = 16 Armor | 45 Hull
Tier 5 "Neutronium Armor":
Small = 4.5 Armor | 30 Hull
Medium = 9 Armor | 40 Hull
Large = 18 Armor | 50 Hull
Tier 6 "Dragonscale Armor":
Small = 5 Armor | 40 Hull
Medium = 10 Armor | 50 Hull
Large = 20 Armor | 60 Hull
Shields:
Tier 1 "Deflectors":
Small = 25 Shield | 1.6 Regeneration
Medium = 50 Shield | 2.8 Regeneration
Large = 100 Shield | 4.0 Regeneration
Tier 2 "Advanced Deflectors":
Small = 50 Shield | 2.2 Regeneration
Medium = 100 Shield | 3.6 Regeneration
Large = 200 Shield | 5.0 Regeneration
Tier 3 "Shields":
Small = 75 Shield | 2.8 Regeneration
Medium = 150 Shield | 4.4 Regeneration
Large = 300 Shield | 6.0 Regeneration
Tier 4 "Advanced Shields":
Small = 100 Shield | 3.4 Regeneration
Medium = 200 Shield | 5.2 Regeneration
Large = 400 Shield | 7.0 Regeneration
Tier 5 "Hyper Shields":
Small = 125 Shield | 4.0 Regeneration
Medium = 250 Shield | 6.0 Regeneration
Large = 500 Shield | 8.0 Regeneration
Tier 6 "Psionic Shields" & "Enigmatic Deflectors":
Small = 150 Shield | 5.0 Regeneration
Medium = 300 Shield | 7.0 Regeneration
Large = 600 Shield | 9.0 Regeneration
Compatibility:
This Mod does Not overwrite any Files and should be compatible with pretty much everything.
Why not check out my other Mods? Just take a Look at the Collection at the top of the Page 🙂