Real Sol Textures For Stellaris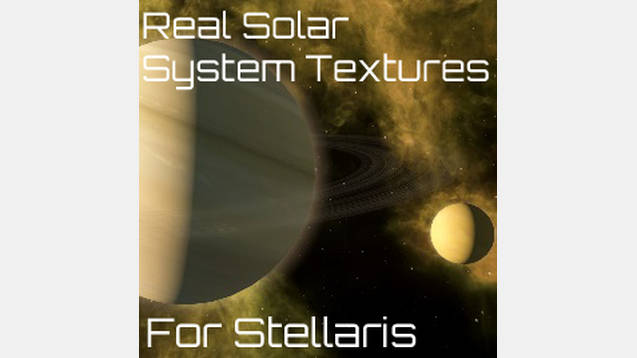 Real Sol Textures For Stellaris
Ever been turned off by Paradox's lackluster textures used in the Solar System? This mod aims to fix that by adding real textures for the planets in our Solar System. This is my first mod so I hope you all enjoy!
Things this mod does:
– Adds unique textures for Mercury, Venus, Io, Europa, Ganymede, Callisto, Saturn, Titan, Uranus, Neptune, and the Tomb World Earth.
– Removed the 1, 2, 3, and 4 for the asteroids in the Solar System.
– Fixes the horrendous Mars texture glitch.
– Turns Ceres into a small cold barren planet.
– All Solar System versions (Primitive, Nuked, Commonwealth of Man) will receive this treatment.
– When encountering the United Nations of Earth as the Commonwealth of Man, they will use the correct flag.
– Terraforming Mars will now result in the use of a unique texture by the very talented Ittiz on DeviantART.
– Should the planet class of Earth be changed in between Nuked, Gaia, Continental, Barren, or Infested, the appropriate texture will be used.
– The same goes for Mars, minus the nuked variation.
Thanks to a talented user named Malthus, I found out that there is a code to change the entity of certain planets, allowing for the terraformation of planets without them loosing unique textures.
If you like this mod, consider also using my Solar System Variations mod!
I hope you all enjoy!