Pop Growth Tweaks Stellaris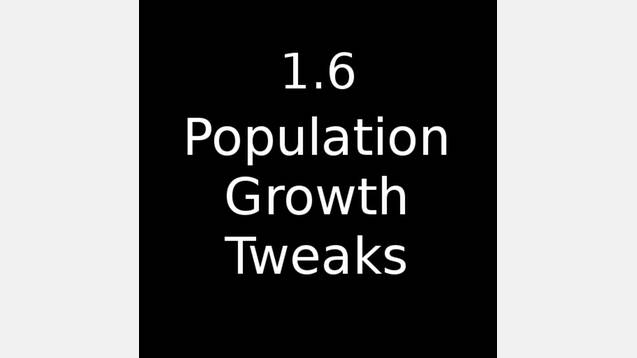 Pop Growth Tweaks Stellaris
I felt that population growth in Banks/Utopia was ridiculously slow due to global food, compared to prior verisons.
This mod aims to fix that. Rather than putting population growth on a straight line, I've used the values in 00_defines.txt to put it on a slight curve, meaning that smaller planets end up having a niche in stabilizing growth rates if migration is allowed.
As a planet grows, it will experience a slight boom until about 16 population, after which it will slow a bit.
It doesn't take a hivemind 120 years to fill a 100% habitable 25 slot planet anymore.
Example of vanilla growth.[i.imgur.com]
Example of what this mod does.[i.imgur.com]
There is still some tweaking to be done, and I welcome your feedback as to whether it feels too fast now.
This mod changes the following values in 00_defines.txt, and will not be compatible with other mods that do so:
GROWTH_BASE
GROWTH_INCREASE_PER_POP
GROWTH_INCREASE_FACTOR
FOOD_SUSTAINED
FOOD_SURPLUS_BASE_GROWTH
FOOD_SURPLUS_EXTRA_GROWTH
FOOD_SURPLUS_EXTRA_GROWTH_MAX
FOOD_SURPLUS_MIN_POPS