Planetary Rally Points For Stellaris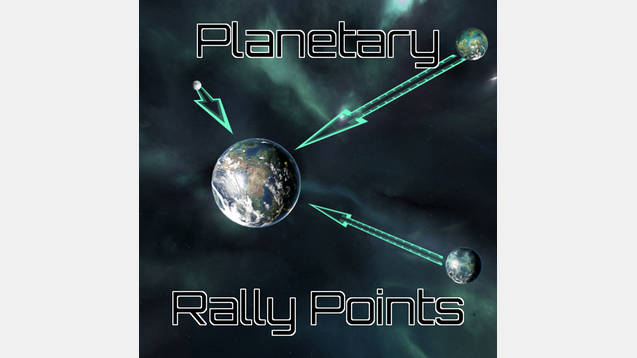 Planetary Rally Points For Stellaris
Planetary Rally Points gives you the ability to set rally points for newly constructed military ships.
Mod Features
Adds the ability to set up to three different planets as rally points.
Adds the ability to set any number of planets to send their built ships to a rally point.
Usage
This mod works by adding planetary edicts for each rally point. To set a planet as a rally point, select the planet of your choice and select one of the three edicts named "Designate Staging Area X", with X being a greek letter. When selected, your planet will recieve a "Staging Area" modifier.
Once a planet is set as a rally point, all other planets will now have an edict named "Assign to Staging Area X", select it to have ships built in that planets spaceport sent to the selected rally point.
To remove a planets designation as a rally point, either set a new planet as a rally point or enact the edict "Dismantle Staging Areas" on the planet.
To have a planet stop sending ships to a rally point, enact the edict named "Cancel Assignement"
If you feel like the edicts are cluttering up the edict screen on a planet, you can enact the edict "Toggle Staging Edicts" and every edict except for that one will be hidden. To make them visible again, simply enact the same edict again.
Features added in 1.0.1
Adds the edict "Rally Here!" which will make nearby plants all rally to the planet enacting this edict.
Only available on a planet designated as a rally point.
For bugfixes and minor changes, please refer to the changelog.
Planned Features (some when they become possible)
Have fleets that meet up at a planet merge into one fleet.
Fix tooltips so they show which planet they are sending towards. Added in 1.0.1 on edict tooltips. Modifiers does not seem capable of doing it.
A way to change the distance of the "Rally Here!" edict.
Perhaps a way to have ships leave in groups of some number, to sort of counteract the growing fleet list without affecting the point of rally points too much.
Contributors
Thanks to:
Revan for german localisation.
Maverik for spanish localisation.
3ChiThai for russian localisation.
Compatability
Compatible with game version 1.2.*
This mod should be compatible with any other mod.
This mod will make you unable to gain achievements if activated during an ironman game.
Mod Version
Version: 1.0.4
Any feedback is appreciated.
If you like the mod, give it a so others can discover it!