More Planet Types For Stellaris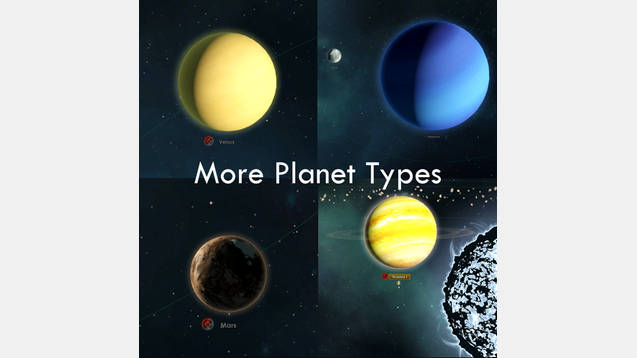 More Planet Types For Stellaris
For Stellaris 1.4.X
This mods adds various new planet types to make for more varied star systems, and a more accurate representation of the Sol System. Mars can now be terraformed!
Features include:
– 4 new terraformable planet types: Hot Greenhouse, Cold Greenhouse, Semi-Barren and Large Frozen
– 'Advanced Terraforming' allows these planets to be changed into habitable planets. 'Advanced Robotic Colonisation' technology allows these bodies to be inhabited by robitic pops.
– New uninhabitable planet types:
—Ice Giants
—Hot Gas Giants (AKA Hot Jupiters)
—Asteroid Dwarf Planet
—Carbon Worlds, rare resource rich planets
– More Gas Giant planet textures, including white 'Helium Giant' textures
– Sol System updated to account for these changes. Venus, Mars, Titan and Ganymede all terraformable. Also added more bodies and unique textures.
– Planets now spawn at more realistic distances from the star according to their class (i.e. hot near, cold far)
– Added more variety in planet sizes, including the possibility of smaller moons
– Continental and Tropical planets can have exotic colours
The mod should be compatible with other mods that do not effect the following:
– Planet Types
– Generation of Sol and starting systems
– Star classes
– Tile blockers/deposits and planet modifiers
– Vanilla anomalies
The mod is currently translated into the following languages:
– French, by Tisoon
– Russian, by star
– German, by gss96
Suggestions for new planet types, and other changes, welcome!