Overloaded: Mobile Stations – (NSC Compatibility) Mod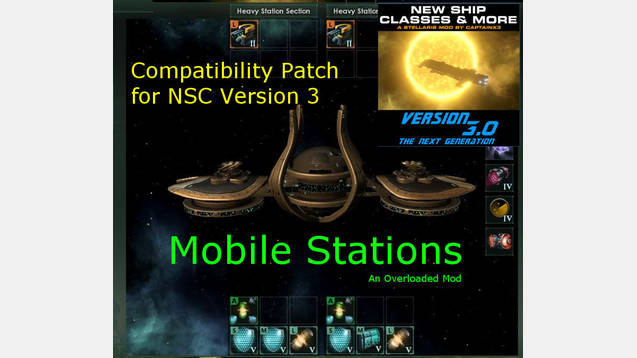 Overloaded: Mobile Stations – (NSC Compatibility) Mod
================================================================
Mobile Stations – an Overloaded mod
— Compatibility Patch —
New Ship Classes and More 3.0
================================================================
Version: 1.4.*
What does this compatibility patch do?
– Adjusts all existing mobile station sections to fit in line
with NSC.
– Adds a mobile battle fortress.
– Took the liberty of adding in support for Folk's Power Station
mod while I was at it.
Differences between NSC and Mobile Station Battle Fortress?
– I choose not to add the 200 range sensor to the mobile version
of the battle fortress. It would be a little unbalanced to warp
the ship around scouting. Might as well type "intel 1".
What does the mod not do at this time?
– Does not add mobile versions of the HQ or other specialized
NSC stations.
Why?
– Custom scripting that NSC devs did with many of the custom
stations make it problematic to properly test and support.
Making a station mobile causes a lot of problems that are
hard to account for when event triggers are applied.
– Risk of future changes causing major breaks with this patch.
Even if tested good initially, there is a reason NSC left
their stations stationary.
– Game Balance. NSC isn't balanced for a slow moving Death
Star and I'm respecting the balance decisions of the devs.
If there is a lot of demand for an overpowered ship ill
support in a separate isolated mod.