(-New Ship Classes & More v5.0-) Mod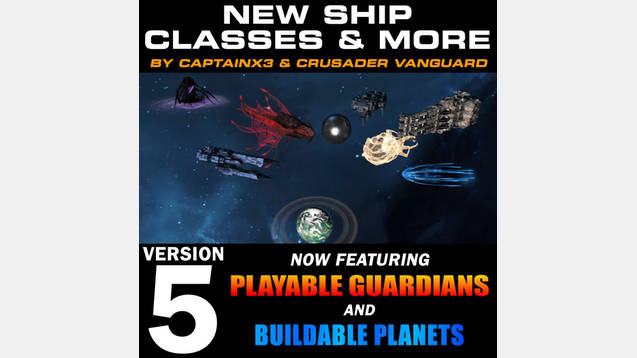 (-New Ship Classes & More v5.0-) Mod
This mod adds new ship classes and many new features to the game. These changes affect all vanilla playable races in the game, and the AI will use all the new ship classes in the same way that the player can.
New Ship Classes: Frigate, Strike Cruiser, Battlecruiser, Light Carrier, Carrier, Dreadnought, Superdreadnought, Flagship, Construction Cruiser, Science Cruiser.
New Station Classes: Headquarters Station, Sensor Station, Battle Fortress, Power Station, Mining Base, Drydock.
Designable Stations: Frontier Outposts, Mining Stations, and Research Stations are now armed and designable.
18 New Playable Races: AI, Ancients, Pirates, Swarm, 7 Unbidden Colors, 6 Fallen Empire Types, and a new made-from-scratch race called Creatures of the Void.
New Technologies: An entire research tree dedicated to the new classes and their associated components.
Playable Guardians: Allows the player to summon their own Guardian/Leviathan (if they have purchased the Leviathans DLC).
Buildable Planets: Allows the player to build artificial planets.
Customizable Fleet Formations: An addon mod that allows players to change fleet formation ordering from the default and customize it to their own tastes.
And Much More: Hundreds of other tweaks and changes to improve the gameplay experience.
Before using this mod, it is HIGHLY recommended that you read the Official Mod Guide website. This site has everything that you need to know about the mod and how the new features work.
Having trouble with the mod? Click on the link below to join our online Tech Support channel and chat with the mod developers live on Discord.
You can join our server and chat with us live in our Lounge, or post ideas and suggestions for us to read! Simply head to the link below to join.
June 18th, 2017 – Update 5.1.7 – General Bug Fix Update
New Save Game is Not Required
Added new Power Station model that we believe is a better fit.
Added Brazilian Portuguese language support to the base mod in English. Russian not included to not interfere with RU translation mod.
Changed Battlecruiser's build time from 365 to 360 in alignment with a Stellaris year.
Adjusted XL Locators on Reptilian Spinal Mount Bow 2 for better positioning.
Added 2 XL weapons to Playable Guardian Automated Dreadnoughts (both options).
Fixed Playable Guardian Stellarite's XL Beam weapon so that it will fire even if the Stellarite travels "backwards".
Fixed Playable Guardian Paradise system to have proper plantary bodies, distances and a proper fleet formation for the Galleons.
Fixed all Playable Guardian system initializers to fix distance/spacing issues.
Fixed Playable Guardian's Player Carrack Pirate Galleon to have proper graphical culture, turrets, and weaponry locators.
Overhauled a lot of the Playable Guardian's localisation, for general improvements and to fix many grammatical & spelling errors plus certain funny mistakes.
General bugfixing and code cleaning of mod entire, including many localisation fixes.