Nations of the World in Space: G20 Light For Stellaris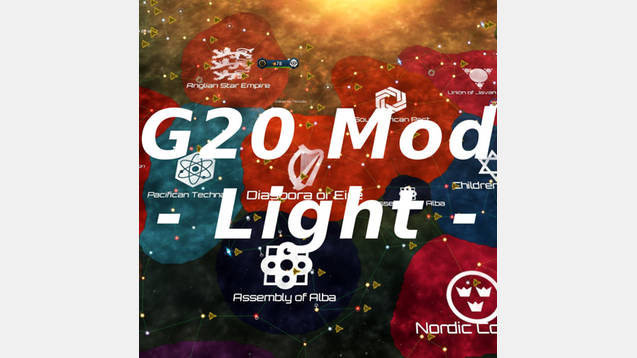 Nations of the World in Space: G20 Light For Stellaris
This mod brings the G20 nations (and a few chosen others!) to the stars!
The nations of Earth have taken off to the stars to settle a strange and challenging new galaxy. These nations have their grounds in reality, but have since grown to resemble something akin to a caricature of the real deal – I am heavily influenced by both SMAC and Freelancer.
This version is a "Light" version, meaning it only brings us the bare-bones nations and flags, but little else. With time, I will add name lists as well as a back story and maybe some custom events.
Right now the mod features 34 nations (some multiples).
These are, in no particular order:
China (Middle Kingdom):
– Despotic Hegemony
– Fanatic Collectivist, Materialist
Eastern Coastal USA (Liberty Consortium): Thrifty
– Plutocratic Oligarchy
– Individualist, Materialist, Militarist
The South/Midwestern USA (Christendom): Agrarian
– Theocratic Republic
– Spiritualist, Militarist, Individualist
Western Coastal USA (Pacifican Technate): Intelligent
– Science Directorate
– Fanatic Materialist, Xenophile
India (Hindi Union): Nomadic, Decadent, Rapid Breeders, Communal
– Collectivist, Fanatic Spiritualist
– Theocratic Oligarchy
Japan (Nipponese Co-Prosperity Sphere): Conformists
– Divine Mandate
– Spiritualist, Militarist, Xenophobe
Germany (German Federated Stars): Industrious, Natural Engineers, Slow Breeders
– Peaceful Bureaucracy
– Pacifist, Materialist, Xenophile
East Germany (German Democratic Star Republic): Conformist
– Despotic Hegemony
– Materialist, Collectivist, Xenophobe
Russia (Russian Cosmosphere): Adaptive
– Despotic Hegemony
– Fanatic Materialist, Collectivist
Soviet Russia (Union of Soviet Star Republics): Resilient, Natural Physicists
– Fanatic Collectivists, Materialist
– Despotic Hegemony
Brazil (Regime Militar do Brasil): Adaptive, Agrarian, Sedentary, Slow Learners
– Military Junta
– Xenophile, Spiritualist, Militarist
Indonesia (Union of Javan Suns): Nomadic, Rapid Breeders
– Individualist, Xenophile, Spiritualist
– Indirect Democracy
France (Sixth Republic): Adaptive, Fast Breeders, Sedentary
– Indirect Democracy
– Individualist, Materialist, Militarist
England (Anglian Star Empire): Talented, Natural Physicists, Solitary.
– Enlightened Monarchy
– Pacifist, Fanatic Materialist
Scotland (Assembly of Alba): Thrifty
– Xenophile, Pacifist, Spiritualist
– Moral Democracy
Mexico (Mexican Empire): Nomadic, Communal
– Spiritualist, Militarist, Xenophile
– Military Junta
Italy (Roman League): Nomadic, Slow breeders, Communal
– Plutocratic oligarchy
– Spiritualist, Xenophile, Pacifist
South Korea (Korean Conglomerate): Industrious.
– Plutocratic Oligarchy
– Fanatic Materialist, Militarist
Saudi Arabia (Unified Clans of Arabia): Decadent, Nomadic, Agrarian
– Divine Mandate
– Fanatic Spiritualist, Militarist
Canada (Confederation of Canadia): Natural Sociologists, Charismatic
– Moral Democracy
– Fanatic Pacifists, Xenophile
Turkey (Turkish Sovereign Republic): Nomadic, Communal
– Theocratic Republic
– Spiritualist, Xenophobe, Militarist
Australia+NZ (Anzac Confederacy): Nomadic, Resilient, Charismatic, Solitary
– Indirect Democracy
– Individualist, Xenophobe, Militarist
Argentina (La Plata): Agrarian
– Military Republic
– Individualist, Militarist, Xenophobe
South Africa (South African Pact): Industrious, Resilient, Solitary
– Military Junta
– Collectivist, Militarist, Xenophobe
Spain+Portugal (Iberian Union): Communal, Charismatic
– Indirect Democracy
– Xenophile, Pacifist, Spiritualist
Friends:
Balkan Nations (Balkan Bloc): Agrarian, Strong, Slow Breeders
– Collectivist, Militarist, Spiritualist
– Military Junta
Netherlands+Flanders (United Netherlands):Thrifty
– Xenophile, Pacifist, Materialist
– Enlightened Monarchy
Scandinavia (Nordic Council): Natural Sociologists, Talented, Weak
– Moral Democracy
– Fanatic Pacifist, Xenophile
Israel (Children of Zion): Thrifty, Strong, Solitary
– Militarist, Spiritualist, Xenophobe
– Military Republic
Nigeria/Black Africa (African Union): Nomadic, Rapid Breeders
– Xenophile, Militarist, Spiritualist
– Indirect Democracy
North Korea (Korean Democratic Stars): Industrious, Resilient, Solitary
– Fanatic Collectivist, Militarist
– Despotic Empire
Singapore (Singapore Technate): Intelligent
– Science Directorate
– Fanatic Materialist, Individualist
Switzerland (Helvetian Interstellar Confederation):
– Direct Democracy
– Materialist, Xenophobe, Militarist
Ireland (Irish Diaspora): Charismatic, Nomadic, Rapid Breeders, Nonadaptive
– Moral Democracy
– Pacifist, Xenophile, Materialist