Megastructures Stellaris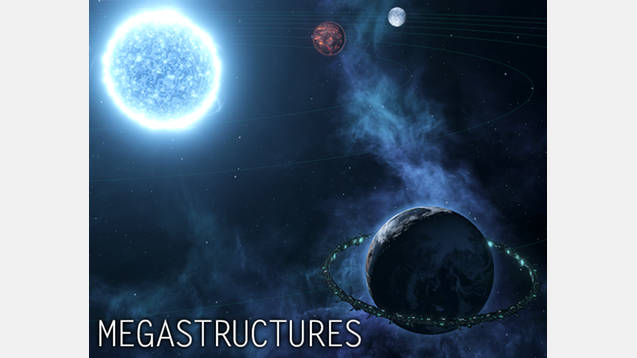 Megastructures Stellaris
03/07/17 – Balance pass. Planet Cracker now leaves behind a permanent deposit and mining station.
Updated for 1.6.* – Megastructures requires the Utopia DLC.
Major New Features:
New Megastructure:
Citizen Science Array. Discovers (creates) new Star Systems, with a chance at finding some valuable surprises. Costs Unity to run. Limit: 1.
New Megastructure:
Resource Silo. Adds mineral and energy resource storage to your empire.
New Megastructure:
Planet Cracker. Reduce habitable or uninhabitable planets to dust, reaping the rewards in the process. Disclaimer: All liability for loss of life/species lies with the end user.
New Megastructure:
Orbital Shipyard. Turn your ship building worlds up to 11.
New Strategic Resource:
Supertensile Solids. These give a modest boost to megastructure build speed, and spaceport health.
New Ascension Perk:
Forge Worlds. Unlocks Space Elevators, Equatorial Shipyards and the Planet Cracker.
Upcoming Features:
-Galactic HAROLD. HAROLD. HAROLD. HAROLD. We actually mean harold. Not Herald. What would a galactic herald even do? *fanfare* tada! It's… the galaxy! No, we really do mean Galactic Harold.
-Society-based Megastructure Projects (secrets!).
-Planet-cracking. **Now Added**
-Communications Array.
-Diplomatic Conference Basilica
-Ethics based projects (maybe.)
-More stuff.
Localisation
German – credit to Killy84
Russian – credit to Spectrum
On compatibility; Megastructures never has, and never will, overwrite or alter any vanilla game files. If you are experiencing compatibility issues with *insert mod name here*, it is not on our end. That said, there may be fundamental incompatibilities of style or feature that render using Megastructures and *insert mod name here* dysfunctional.
Any mods that alter system scale, or the scale of Ringworld parts will currently cause visual issues, such as the location of our megastructures in relation to planets etc.
Please report bugs below, and have fun. This mod will be receiving frequent updates over the coming days/weeks.