Matriarchy Mod Stellaris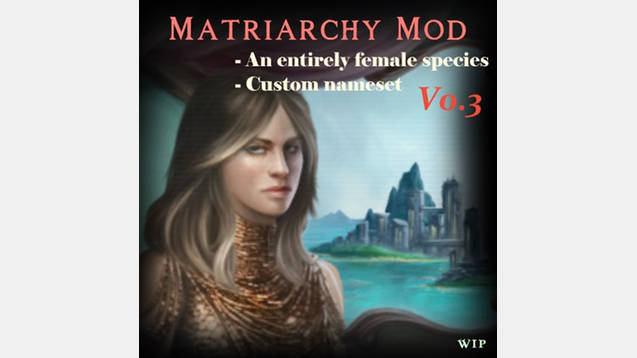 Matriarchy Mod Stellaris
This mod adds a race of humanoid females along with a namelist for your sexy alien space women.
Matriarchy Mod
v3E
This mod adds a new racial selection for a human race that is made up entirely of women (ie. no male portraits or names). Now you can make a female matriarchy, queendom, or whatever your heart desires.
Where:
They will appear under the "Humanoid" category as a female human with dark hair, she should be located on the right side.
Disclaimer:
This DOES NOT replace or do anything to the default humans. Though the race is entirely female it does represent the various phenotypes of the human race. This mod doesn't affect the default human race.
Version:
V3E
– Updated for 1.4 "Kennedy" patch.
V3D
– Updated for 1.3 "Heinlen" patch.
– Fixed issue with overwriting humanoid portraits.
V3C
– Updated to 1.1 for Clarke Patch.
– Added more names to namelist.
V3
– Modified portraits to fix invisible leaders.
– Hopefully fixed name list.
V2
– Updated for 1.03 patch.
– Modified female_portraits.txt to NOT allow ANY male characters. Doesn't exactly work as intended and is experimental. Please report any bugs with this.
– Added more names to the female name list.
V1
– Released.
Compatibility:
– Compatible with human clothing edits (ie. Totalitarian Human Portraits or Hail, Columbia! Old Human Clothing.
Bugs:
– I don't actually know how to program one gender in so you still "technically" have "male" leaders (ie. Prince) but they look and have female names. There is hopefully a fix for this, somewhere. THIS SHOULDN'T NATURALLY HAPPEN ANYMORE
To-Do:
– Overhaul the namelist.
– Add a memorable quote to the top of this thread.
– More clothing?