More Leader Traits (Three traits for all) Stellaris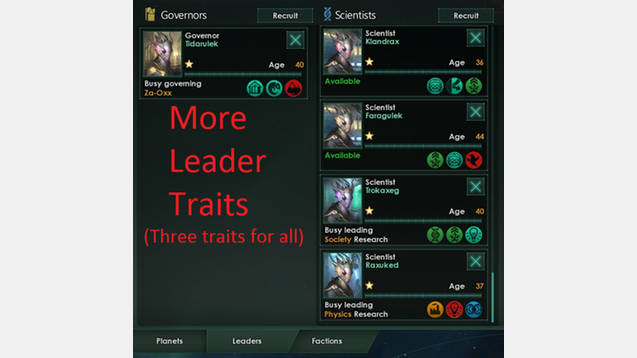 More Leader Traits (Three traits for all) Stellaris
A very simple mod that lets your normal leaders and rulers start with 3. Also affects the AI.
I would also recommend using my "Negative Leader Traits" mod with this one to add more personality to your leaders.
Should be compatible with any other mod that does not change these values.
Works for patch 1.6.*
For other versions of this mod, check out this link.
Also check out one of my other simple mods:
-[4 Ethic Points] allows you to choose 4 Ethics for your faction instead of 3.
-[Faster Leader Pool Replacement] reduces the time for recruitable leaders to be refreshed from 10 to 3 years.
If anyone would like a version with different values, just tell me and I will upload one as soon as possible.