Interstellar Music Mod Stellaris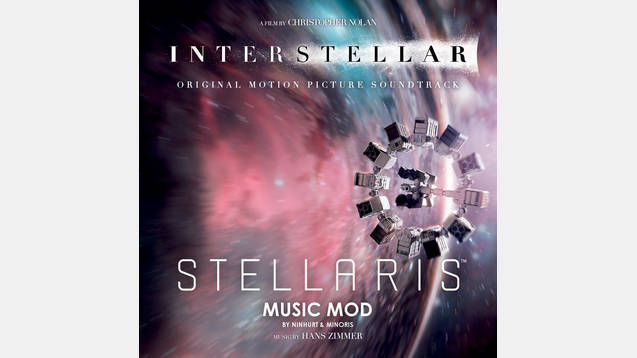 Interstellar Music Mod Stellaris
Enhance your Stellaris experience – This mod adds the soundtrack from the film "Interstellar" to the original Stellaris soundtrack. Works with other mods and compatible with update 1.3
Interstellar: Original Motion Picture Soundtrack is the soundtrack album to the 2014 film Interstellar directed by Christopher Nolan. The film score is composed by Hans Zimmer who previously scored Nolan's Batman film trilogy and Inception. The soundtrack garnered critical acclaim. Prior to its digital release, it was nominated for an Academy Award and Original Score at the Hollywood Music in Media Awards. The soundtrack was released on November 17, 2014 via the WaterTower label.
Includes full soundtrack (including bonus edition tracks) as performed by Hans Zimmer.
Track List:
1. "Dreaming of the Crash"
2. "Cornfield Chase"
3. "Dust"
4. "Day One"
5. "Stay"
6. "Message from Home"
7. "The Wormhole"
8. "Mountains"
9. "Afraid of Time"
10. "A Place Among the Stars"
11. "Running Out"
12. "I'm Going Home"
13. "Coward"
14. "Detach"
15. "S.T.A.Y."
16. "Where We're Going"
17. "First Step" (Main Theme track, this will play first)
18. "Flying Drone"
19. "Atmospheric Entry"
20. "No Need to Come Back"
21. "Imperfect Lock"
22. "No Time for Caution"
23. "What Happens Now?"
A BIG thanks to Minoris for helping me bring this mod up to scratch! (compatibility etc).
Changes & Compatibility:
– Should be compatible with any other mod (let me know if you have issues)
– Does not deactivate the original soundtrack
– Ironman and achievements compatible
– Updated for the 1.3 version
– Updated .ogg files for Mac & Linux compatibly
– Updated to work with other mods and original soundtrack
– Updated Main Theme track "First Step" to play during gameplay
– Updated all tracks to 320kbit/s
– Added bonus tracks from the original soundtrack release
All credit goes to the amazing artists who create these scores. You can buy this soundtrack on iTunes, Amazon, or stream it on Spotify.
Please give this mod a thumbs up if you enjoy it ????