Hostile Worlds (Standalone) For Stellaris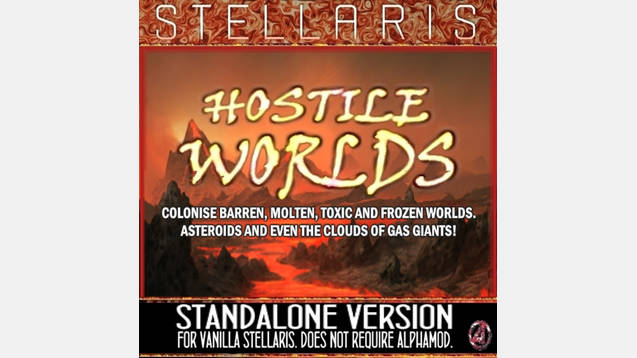 Hostile Worlds (Standalone) For Stellaris
Follow-up surveys and colonisation of hostile worlds.
Does not require AlphaMod. If you use AlphaMod, use the supplement, not this.
Includes GeneMod_UI++, making the genetic modding window larger to fit the additional habitability traits.
Adds new technologies for unlocking empire edicts to carry out follow-up surveys of once-thought uninhabitable worlds.
Adds technologies for unlocking specialised buildings for these hostile environments. Many increase planet habitability.
Includes the barren/asteroid colonisation features of AlphaMod, without barren worlds or asteroids being habitable on game-start. Follow-up surveys are required.
Does not disable or interfere with the 'terraforming candidate' vanilla feature.
COMPATIBILITY
Modifies common/traits/00_habitability_traits.txt
Absolutely won't work with other mods that add custom planets or mod planet habitabilities. So, no, it won't work with Planet Diversity.
Licence: Original artwork is copyright the author & Alpha Strike Games Limited.