Honorbound Warriors Name List For Stellaris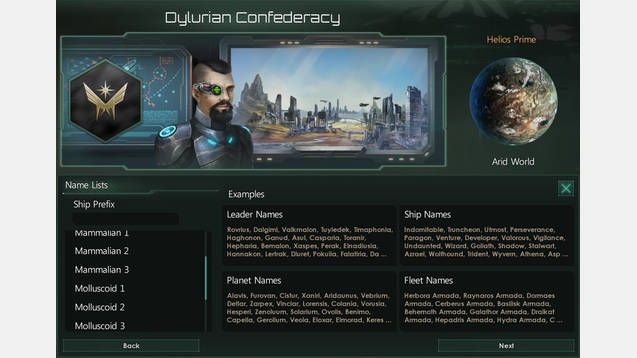 Honorbound Warriors Name List For Stellaris
Howdy great peeps,
After creating a bunch of custom civilizations, that I modelled after the existing AI personalities,
I came to the "Honorbound Warriors" personality, but found no proper name list, so I made one.
This list has male & female differentiations, with an extended name list for names, ships & planets.
For ship names it uses the 'Humanoid 4' ones, since they were more than fitting enough.
Kind regards & enjoy,
Dukhat
If you have any questions, comments or requests, place them in the comment section.
Male & Female Names:
http://pastebin.com/bkCpKMj0
Fleet Name:
Armada
Army Names:
Defense Army: Planetary Guard
Assault Army: Assault Legion
Slave Army: Slave Contingent
Clone Army: Clone Legion
Robotic Army: Mechanized Legion
Android Army: Synth Legion
Psionic Army: Zealot Legion
Xenomorph Army: Xenomorph Swarm
Gene Warrior Army: Chosen Legion
Enjoy!