Here, There Be Dragons For Stellaris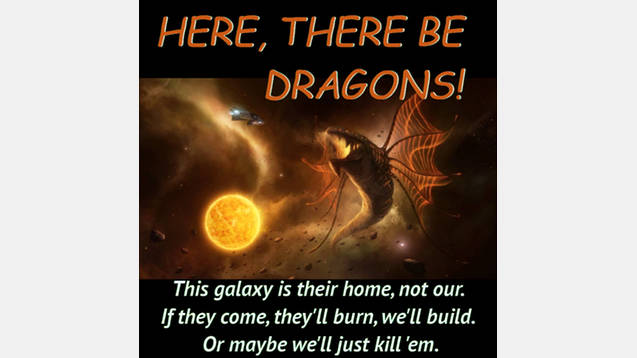 Here, There Be Dragons For Stellaris
Now Ether Dragons can travel through the galaxy. And it is not a single dragon.
Mod description
Mod adds roaming dragons in the galaxy. Dragons usually are just travelling between stars, stays near some of them for some time and travel again. Time from time dragon may lay an egg and new dragon will born.
The latest update info
NEW: New event chain to explore dragon behavior and develop means to scare them out of your space. Please report any problems with it.
– Dragon's Fire is available as possible trophy from Ether Wyrm corpse.
– Dragon's Lightning is available as one of possible trophies from dragon remains.
– Unique names for all dragon fleets to distinguish them one from another
– Special project to explore dead dragon remains and get rewards.
Requirements
Leviathans DLC is required.
Dragon lifecycle
There are 4 dragon forms: Whelp, Wyrmling, Dragon and Wyrm
Only Wyrm may lay an egg (about every 20 years)
Egg becomes Whelp in about 10 year
Whelp becomes Wyrmling in about next 10 years
Wyrmling -> Dragon takes ~15 years
And finally Dragon becomes Wyrm in another ~20 years
Dragon behavior
– Agressive but will not retaliate being attacked
– Avoid black holes, Fallen Empires space (they know how to scare dragons away), Enclave systems
– Don't like systems with pulsars and neutron stars and with colonized planets, but may visit them still.
Dragon Hoard Interaction
Both dragon types – hoard and roaming – are different countries, so hoard dragon will be aggressive against any other roaming dragons entering his system.
Events and Projects
NEW: – "The way of the dragon" event chain will allow you to find out what they like and avoid. At the end you will get 'Dragon's Fear' edict to scare dragons out of your space.
– When dragon is defeated the special project will be spawn to explore its remains. It can give you research points and/or some dragon-related techs (Energy Lances, Dragon's Armor, Dragon's Lightning (PD weapon) and devastating Dragon's Breath long-range weapon.
Compatibility
Mod should be compatible with everything, that means it will work in general and will not affect other mods.
Stability and balance
Consider this as beta and report any issues back to me.
Enjoy. Or suffer.