German people, ship, planet & star names Stellaris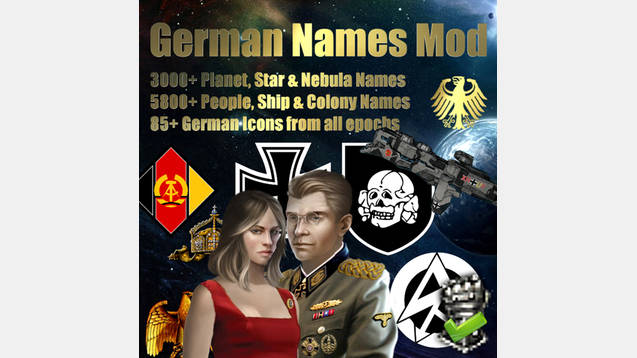 German people, ship, planet & star names Stellaris
German people, ship, planet & star names – (1.7 Bradbury)
3000+ planet, nebula & star-systems names in German.
5800+ colony, ship, station & people names all in German with proper German lettering… "ß" "ö" etc.
85+ icons/flags, plus around twenty backgrounds.
50+ character skins & enabled files so you will have variety on your planet.
4 epochs covered: Imperial, Third Reich (nazi), Ost/West Germany & Bundes. Plus futuristic Space Nazis.
4 Prescripted nations to aid your selection.
5 Prescripted solar systems to aid your selection. NEW – Moon Invasion Scenario.
Correct hair types for the periods.
Population clothing fits buildings on planet view.
German themed city graphics.
German themed ship skin.
IronMan compatible.
Steam Awards compatible.
This mod turns your galaxy German in addition to your ships & people names.
Should be compatible with almost all mods, but certain features may need to not be used, German ship type if you use a mod that affects the basics.
Only file replaced is the 00_random_names.txt to make the galaxy German.
For a more involved & modded game, see my Iron Sky mod, with a complete overhaul of most facettes of the game to a German theme, techs, traits, ship weaons, modable stations, gaia terrorforming plus avery large list of other otions. IronSky – Space Nazis
You may wish to download IronSky Ambience for the loading scenes & music to compliment this mod.
If you would like your own custom themed mod created, $30-$50, contact me to discuss.
*This mod has a Nazi theme, so if you are politically correct &/or easily offended… or it's illegal in your country… simply do not download it. You control your own happiness.
It makes no attempt to be historically accurate, it is just to have a wee blitz in space…
**Imperial skins are from Ulmonts "Imperial German Portraits" mod.
Traducción al Español por Werwolf-NS