Fox Leader Stellaris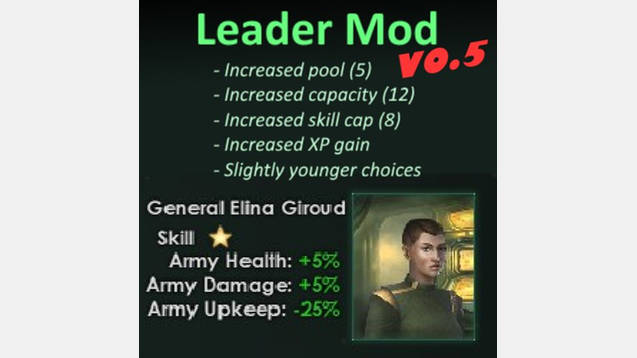 Fox Leader Stellaris
Updated for 1.5.1 this mod greatly improves leaders.
This mod changes leaders to be more important by allowing the player to select from more of them, have more leaders active, and increase their skill rates and caps. Generals, specifically, have received a small bonuses to XP gain. Leaders can also be slightly younger than before.
This mod is NOT a hard defines edit.
Specifics:
– Pool size 5
– Capacity increased by 2
– XP gain increased by 0.1
– Leader level cap raised to 8
– Minimum age reduced by 2 years
– Generals granted a boost of 5 to ground combat
– Increases General and Admiral XP gain by 5-10 (roughly 33% faster).
– Updated skill rank images that go from silver stars to gold stars.
– Leaders gain 3 or 4 XP a month now (WIP).
Version:
V5d
– Updated for 1.5.1 patch. Incompatible with 1.5 patch due to inability to read .lua file edits.
– Increased initial leader capacity to 15.
V5c
– Updated for 1.5 "Banks" patch.
V5b
– Fixed graphical error (Thanks to GarGhuul)
V5
– Updated for 1.3 "Heinlen" patch.
– Leaders now gain 3-4 XP a month. This was based on code from the Wisdom of Age mod by ftisovec.
V4c
– Removed leader_events.txt hotfix as it was no longer required.
– Tweaked leadership.lua:
– Slight increase to skill gain for taking certain actions.
– Governors gain experience slightly faster based on actions.
– Generals gain experience slightly faster, boosted experience gain when losing troops.
– Scientists gain experience slightly faster, especially those captaining science ships.
V4b
– Implemented trait limit fix (overwriting leader_events_1.txt)
– Updated for 1.21 patch.
V4a
– Updated for 1.1 "Clarke" patch.
V4
– Updated for 1.03 patch.
– Increased skill increase rate for Generals and Admirals.
– Combined loose .lua files into one BIG .lua file.
V3
– Added graphics for skill ranks 6-8.
– New ranks are gold stars, previous ranks (1-5) are silver stars.
V2
– No longer dependent on defines.lua. You can use other defines mods now.
V1
– Released.
Compatibility:
– Incompatible with other mods that directly affect leadership stat growth.
– Incompatible with mods that alter the leader_skill.dds file.
To-do and Ideas:
– Use separate skill icons for military (ranks), science (degrees), and politics (achievements).
– Add more ways to gain XP.
– Passive XP gain (needs revision).
– More traits.
– Make governors generate a very minuscule amount of influence based on their level. Very small increase in income and minerals based on level.
– Make scientists generate a very minuscule amount of research based on their level. Increase in scanning speed and anomaly chance based on level.