Faster Leader Pool Replacement (3 Years) For Stellaris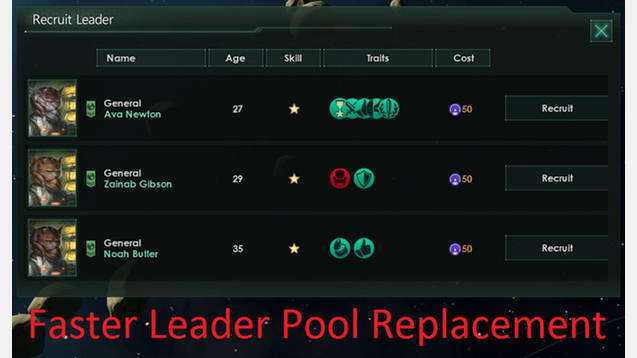 Faster Leader Pool Replacement (3 Years) For Stellaris
A very simple mod that refreshes the leaders in the leader recruitment pool each 3rd year, compared to each 10th years in the game originally.
I recomend using this version of the mod together with one of my negative leader/Ruler trait mods. (See below for links)
Should be compatible with any other mod that does not change this value.
Works for patch 1.6.*
Other versions of this mod:
4 years and 60 influence
Every year
Also check out one of my other simple mods:
-[Negative Leader & Ruler Traits] Adds negative traits to the trait pool for both leaders and rulers.
-[More Leader Traits] increases the starting traits for normal leaders to 2, and rulers to 3.
-[4 Ethic Points] allows you to choose 4 Ethics for your faction instead of 3.
If anyone would like a version with different values, just tell me and I will upload one as soon as possible.