Exterminatus Mod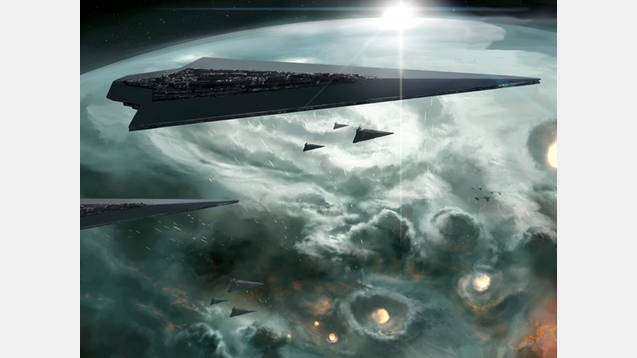 Exterminatus Mod
Description
NB! MAKE SURE THAT YOU HAVE "EXTERMINATUS" EDICT ACTIVE IN ORDER TO USE EXTERMINATUS WEAPONS AND DECLARE EXTERMINATUS UPON OTHERS.
Personally, I've been dissapointed by the poor state of planetary bombardings in this awesome game. While I wanted to leave dusty rockballs behind my unstoppable armada with nothing on their surface but dust and ruins, all I could do was just killing one pop after years of unstoppable bombing. Oh, and those sneaky guys managed to repair all ruined buildings at a moment's notice. Truly, I admire those people who are capable of fixing the whole industrial complex while bombs deal ♥♥♥♥ton of damage around them.
No more.
First of all, Full bombardment stance now stands for "Full" and deserves "Terror bombing" opinion modifier. If you are not careful, your fleet can easily bombard a colony into a stone age, leaving useless rock full of ruins and bombcraters behind. Every month there is 80% chance of ruined building, 60% chance of killed pop and 40% chance that tile blocker will be created. You fleet's firepower now gets recognition it deserves – you can wreck havoc on enemy worlds, turning them from prosperous megapolisies into primitive African villages. Literally, you can eradicate practically ALL population and completely ruin the infrastructure in a year of non-stoppable bombardment.
Not enough for ya? Perhaps some planet or some species ♥♥♥♥ you off so much that you literally want to annihilate them, in the best traditions of Astartes Codex? Here it comes, total exterminatus, everything your sadistic mind needs! Load your ships with deadly bacteriological missiles and turn the whole world into a burning hell (remember Istvaan III, brothers!), making sure that every living creature on the surface will suffer slow and painful death. When you finish, there will be nothing left but a toxic, irradiated pile of junk instead of a formerly beatiful planet. That's one terrible sin, don't think that you will go unpunished by galactic society.
Too much for you? Don't worry, there is always another way. Good ol' nukes, coming down! Grant a spectacular but fast death to everyone on the surface, turning planet into a tomb world with no life on the surface whatsoever. Although many will hate you for this, you can live with it. If you wish, you may even colonize this fallout land one day and rebuild ruined colony for your military needs.
Of course, you can do it the old way – land ground troops and seize colony by force, keeping population alive and infrastructure intact. Classic way, unnoticed by galactic society.
Info & Updates
UPDATE 30.05.16
– Added "Declare Exterminatus" war demand. Tired of constantly surrendering enemies before your mighty armada? Want to eradicate the whole nation? Show no mercy, no remorse? This one is for you. At a cost of 100 warscore, you can declare exterminatus upon some nation. If you succeed, all enemy population will be slaughtered, all their worlds turned into radioactive toxic waste. Galaxy will tremble before you!
UPDATE 30.05.16 #2
– Added opinion modifier after winning Exterminatus war. Glaxy will hate you. I mean it.
– Small tweaks to nuke Exterminatus – now all buildings will be ruined and every free tile will be filled with tile blocker.
UPDATE 02.06.16
– Added small anomaly quest. Level 4, spawns on unhabitable worlds, chance is not high.
– Added new exterminatus option, which allows you eradicate population only, leaving everything else intact (including diplomatic relations). Obtainable through new quest.
– Added new edict. NB! TO DECLARE EXTERMINATUS OR USE IT FUNCTIONS NEW EDICT MUST BE ACTIVE!
UPDATE 06.06.16
– Exterminatus allowed in limited bombardment state
– Fixed minor localization mistakes
UPDATE 09.06.16
– Added special Exterminatus event for ringworlds.
– Now ringworlds are destroyed correctly.
UPDATE 01.08.16 BLOOD AND PROFIT
– Opinion penalty from toxic Exterminatus has been reduced.
– Rate of opinion's improvement has been increased.
– Added new technology for new Exterminatus types.
– Added mew edict for new Exterminatus types.
– 2 new Exterminatus types Fire&Water – Fire: Burn those heretics down with core cracking Exterminatus! Turn once prosperous urban world into the living hell with molten rocks and lava rivers! Then mine large amount of minerals from the scorched surface of once beatiful world! Water: Create new planet-wide aqua-park – send those filthy xenos down to the depths! This Exterminatus will turn planet into the ocean-type world ready to be colonized by your space pioneers! Not usable on arctic, desert, arid and tundra worlds for obvious reasons. Both types won't affect your diplomatic relations with other empires since they will be taken for natural disasters.
UPDATE 18.09.16
-added Polish localisation.
UPDATE 15.12.16
-fixed a bug with unkillable last pop on the planet.
UPDATE 16.04.17
– Habitats are now destructable as well! That filthy xenos scum won't escape their fate, no matter which fortresses they erect, which technology they use! Either blow 'em up or vent into an open space and claim habitat for yourself – the choice is yours!
– Fixed minor localisation bug
– After Exterminatus War Planets/Habitats/Ringworlds will be destroyed correctly.
IT IS NOT A BUG: GAME DOES NOT HAVE MODEL FOR DESTROYED HABITAT ATM THUS BLOWN HABITATS WILL TURN INTO DESTROYED RINGWORLD SECTIONS. NOT THE BEST SOLUTION, BUT THE ONLY ONE FOR NOW.
Special thanks to thesnowfox84 for providing a save file – otherwise it would have taken much more time.
Game version: latest
Languages: English, Polish and Russian.
AI rules: Won't use it. I don't have madskillz needed to correctly programm it, ensuring that AI will be able to adequately analyze pros and cons of using exterminatus.
Q&A:
– Fleet stance descriptions are the same!
– Yes, I know, I will change them one day. Meanwhile, bombardment won't be influenced by it.
– Nothing happens!
– You must bring planet fortifications to 0 and put your fleet into a Full stance to use exterminatus.
– Opinion modifiers are too stir!
– Just imagine for a second that one sick xenos is preparing to exterminate our whole planet with bacterological missiles…
– There are other similar mods on workshop! The hell for I need this one?
– Mods I've seen are either about bombardment OR exterminatus, This one combines both of those directions! Besides, I am planning to expand it a bit later with other types of mass-destruction…
– I have an awesome idea! I heard that cookies can be used as exterminatus weapon aswell…
– Leave your ideas in comments section, I will look into them.