Extended Emblems For Stellaris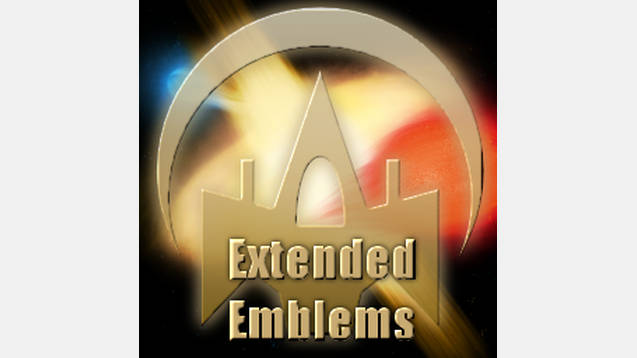 Extended Emblems For Stellaris
============================================
If you enjoy this mod, please be sure to rate it up! More people will see it, and it makes me happy ????
============================================
Greetings inhabitants! I present to you..
Extended Emblems!
These Emblems for your empire flags are designed to compliment the quality of the Paradox ones, and I've been very careful to replicate it where possible! In this pack you will find:
73 New Emblems! (and growing!)
-Enabled for AI/Random use!
-Compatible with 1.7.x!+
-Ironman Achievement Compatible! ???? (Thanks @viscoussummer88 for confirming!)
95% of the icons used for the emblems are from game-icons.net , and I take NO credit for those what-so-ever other than what I did; which was download them, photo-shopped, cleaned up, exported to DDS, and made them available for your use in game!
There are seven however that were designed by me, which are the ones grouped together in the two pictures at the end of the screenshot gallery. I ask that you do NOT use those without my permission. If you'd like to use them for something, feel free to contact me via twitter, and we'll have a chat :3
This mod includes:
-Machines
-Military/Government
-Robots
-Pirate
-Gooey, Creepy
-Space craft
-Space objects
-Abstract
-Floral
-Rank-Like emblems
and other things that would work well for an invader flag for an invader playthrough!
I will continue to update this, as I'm in LOVE with this game, and the fact that they are supporting modders makes my heart soar! I hope you enjoy these!
======================================
The Time Lord Emblem in the image gallery was removed to keep this mod more lore friendly in terms of the Stellaris Universe, but if you would like emblems from various Sci-Fi shows, or would like some based on real nations from our history, please feel free to check out, sub, and support these other emblem mods! ???? They're all compatible with each other since we all add our own categories :)!