EwieFairy's Modpack Stellaris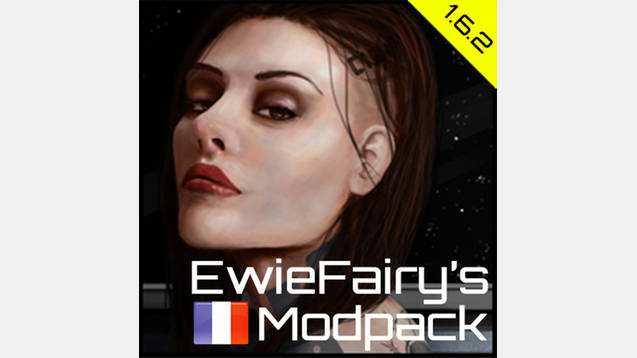 EwieFairy's Modpack Stellaris
Mise à jour pour la 1.6.1 Adams
Mise à jour vers la 1.7.2 Bradbury en attente
• But de ce Modpack : ceci est un Modpack que j'utilise avec mes amis pour jouer en multijoueur et éviter que chacun doive télécharger tous les mods séparemment.
• Compatibilité : voir la liste des fichiers modifiés. Les mods incompatibles sont modifiés afin de les associer au mieux selon les mods.
• Crédits : si vous souhaitez que votre mod soit retiré, dites-le moi.
• Mise à jour :
Je gère la mise à jour de chaque mod dont je ne suis pas l'auteure pour avoir un Modpack optimal.
Voir la liste des mods et leur mise à jour
• Mods conseillés :
Immersive Galaxy – Planet Variety, Base
Immersive Galaxy – Planet Variety, Inhabitable planets
Immersive Galaxy – Planet Variety, Uninhabitable planets
Tutoriels
• Description de tous les mods
• Ajout d'un menu de tutoriels en jeu [Work In Progress]
Localisation
J'ai traduit entièrement ou en surface les mods anglophones afin qu'ils soient jouables en langue française. J'améliorerai la traduction quand je pourrai. De plus, j'améliore aussi la localisation française vanilla de Stellaris qui est parfois faite par-dessus la jambe, notamment pour Utopia.
• Totale : Advanced Traits, Alternative FTL Tech, Auto Build and Improve Buildings, Jump Drive Enhanced, Ruler Level System, Plentiful Traditions, SpeedDial
• Partielle : Additional Map Modes, Enhanced Gene Modding, Harder Invaders, Planetary Shields, The Utopian Dream
• Empire : Asari Imperium
• Listes de noms : Asari, Battlestar Galactica, Prothéens
• Graphique de ville : Cité asari
• Système solaire : Nébuleuse d'Athéna
• Symboles : Classique, Jeux vidéo, Science-fiction
• Portraits : Asaris & Quariens (humanoïdes) et Prothéens (reptiliens)
• Vaisseaux : Flottes asaris (les modèles sont disponibles avec EwieFairy's Shippack mais ne sont pas obligatoires)
• Personnalité IA : Érudites Spirituelles (WIP)
Crédits : Mass Effect Theme Pack, Asari Civilisation
• Advanced Traits par Teh T
• Alternative FTL Tech par LittleRaskol
• Auto Build and Improve Buildings par had
• Buildable Ancient Buildings par MikeWe
• Down you go par Tobori
• Enhanced AI par Anex
• Enhanced Gene Modding par ParasiteX
• Harder Invaders par had
• Jump Drive Enhanced par LittleRaskol
• Megastructures Improvements par kasskloff
• Plentiful Traditions par Birdy
• Ruler Level System par jasonpepe
• The Utopian Dream par AlphaAsh
• War Sectors par MikeWe
• Ajouts divers : 3x Pre-FTL Civs, Advanced Buildings, All Enigmatic Technologies, Better Hyperdrives, Cult of Personality Civic, fusion de 'End Of The Cycle' Shroud Multiplayer fix & Reduced Shroud Cooldown, ExBalance Ringworld & Gaia, Mod Menu, No Clustered Starts, Researcher Trait 'Fix', Synths Are People Too, Young Leaders.
• Beautiful Universe v2.0 par Aveliumar
• Improved Space Battles [Graphics] par Ankain
• Planetary Shields par Malthus
• Ajouts divers : Animated Synthetic Portraits, A Better Night Lights Orange.
• Additional Map Modes par zraith
• Cinematic Camera par Aveliumar
• Notification Spam Control par /dev/null
• SpeedDial par MacAwesome
• Tiny Army View par folk
• Tiny Outliner par folk
• Tiny Ship Designs par folk
• Ajouts divers : Advanced Traits Interface, Color coded pop status icons, Federation Leader Notification Mod, Larger Sector Name.
• EwieFairy's Shippack