Easy Mode Stellaris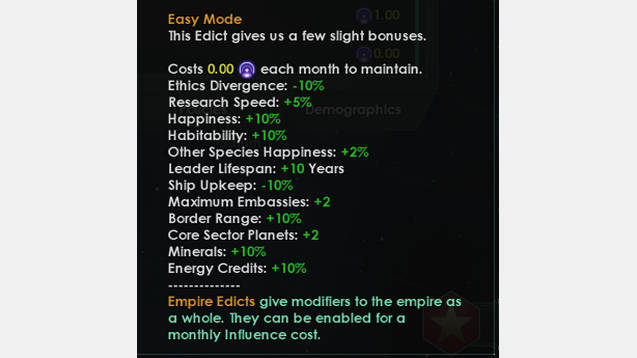 Easy Mode Stellaris
Creates an edict (with no upkeep) called Easy Mode that provides the bonuses shown in the image. I've set the AI to never take this edict, keeping it for the player's enjoyment only.
I've also created another edict called Very Easy Mode that provides even more bonuses.
If you're a true madman, you can activate both at the same time.
This edict appears at the bottom of the empire edicts list.
If you're having problems finding the edict, here's a more detailed explanation.
1. Make sure the mod is actually enabled in the Stellaris Launcher
2. Go into a game.
3. Click the Government tab in the top left corner (it's the one that's your empire's flag)
4. Go to the Policies tab.
5. At the bottom half of the screen is the Edicts list. It should have a scrollbar. Scroll down to the bottom of the list, and the edict should be there.
This is a simple mod, so there's not a lot that can go wrong. Post a comment if you're still having trouble.
This mod is compatible for all patches 1.1.*. This mod will be functional with any game language, but you'll be reading things in English.