Dark Plantoid Shipsets Mod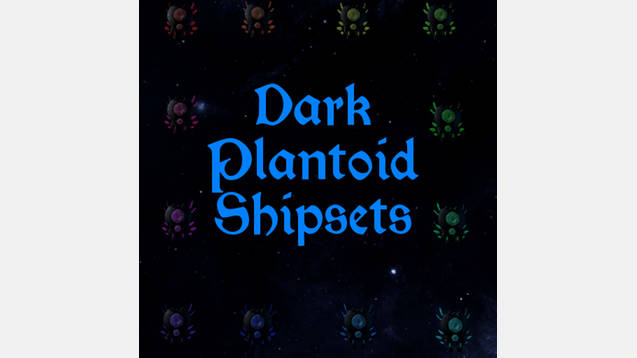 Dark Plantoid Shipsets Mod
The Dark Plantoid Shipsets mod adds 12 new, dark Plantoid ship appearance types to the game, each equipped with appropriately color coordinated engines, lights, and forcefields. These new ship appearances will only be useable by the player. The only way to get the AI to use them is to create a custom empire with one of these 12 ship appearance types selected and adding said empire into your new game via the Phoenix looking symbol next to that empire in the empire creation screen. The 12 colors available with this mod are seen in the image right above this paragraph.
NOTE: This mod is only meant to introduce a new graphical culture for shipsets. This mod doesn't support any other form of culture addon (like city sets, species appearances, etc), and those that come with this mod are NOT meant to be used. DO NOT select them. This is a vanilla issue I cannot fix. Pretend they don't exist and choose another option.
The "pureness" of each color is dependent upon the star and system lighting of the system you are currently in. Each effects each ship color differently. If you start with a blue shipset in a red star system, it will look more purple, if you start in a blue system with red shipsets, then it will again look a bit off. This is not ugly by any means, but you will notice the different in color for most of these shipsets when you go from a red-base to blue-based system and vice versa. I cannot fix this without royally screwing up the game's lighting system, which I don't think should be done anyway.
Update 2.2 – 6/7/17
Updated mod to support Ship Classes Extended – by Princess Stabbity & TheGrandN (Nessa)
Update for color-coordinated habitats in progress. Please be patient as a take the time to properly recolor the new habitat diffuse. Thanks.
THIS MOD REQUIRES THE PLANTOIDS DLC IN ORDER TO FUNCTION!
Important Disclaimer: I have set this mod up so that it is completely dependent upon the base Plantoid DLC files in order to function, so even if you tried to unlock the shipset without having the Plantoids DLC, it cannot function without it anyway due to lack of certain DLC files. If you wish to use this mod, please pay for and download the Plantoids DLC if you wish to use it, as that is how it should be setup and I have set it up in accordance with the law. Without Plantoids DLC files the mod cannot function and will not appear in your game anyway. DO NOT subscribe to this mod without having purchased and installed the Plantoid DLC. Thank you for your understanding.
While it's technically not a required mod, it is very highly recommended that you use Antharis' Stellar Trails Disabler mod in conjuction with this mod. The Disabler mod removes the blue "streak" behind ships whenever they move. This looks particularly strange behind all but the blue-based Dark Plantoid variations, and thus the need for the mod.
Stellar Trails Disabler mod works with the latest patch. Ignore outdated version warnings!
Or you can use Clean Space – No Exhaust Trails by ButtJunkie if you want the same thing that doesn't throw warnings.
This Dark Plantoid Shipsets mod is part of a series of dark hull based ship mods in a collection called "Dark Species Shipsets". This collection adds shipsets with a dark hull and 12 color choices to all 7 main species for your enjoyment. You can visit the Dark Species Collection link at the top of this description to be able to subscribe to all the mods together, or you can look through this listing below and mix and match as you like. Other than Dark Plantoid here you have:
Dark Arthropoid Shipsets
Dark Avian Shipsets (Advanced)
Dark Fungoid Shipsets (Recolored)
Dark Mammalian Shipsets
Dark Molluscoid Shipsets
Dark Reptilian Shipsets
Below is a listing of all mods that this Dark Plantoid mod currently has support for:
ZBeautiful Battles – by Blackthorn (Should be fully compatible)
Downscaled Ships – by Chondrite is now compatible via the Dark Plantoid Shipsets – Downscaled Ship Patch.
New Ship Classes & More V5.0 or New Ship Classes & More: Streamlined – by CaptainX3
ISB Balance and/or ISB Doomsday – by Ankain
Ship Classes Extended – by Princess Stabbity & TheGrandN (Nessa)
Stellar Expansion – Voidcraft – by King Lemming
Realistic Ships – by Tal Ara'nh
(Important:: You will also require the use of the Dark Plantoid Shipsets – Realistic Ship Patch in order to use Realistic Ships properly. Without this, Realistic Ship's species-based Heavy Dreadnought will not appear for any of these cultures. Please read the patch's description for important details.
NOTICE 1: All the mods supported here may not be compatible with each other, please check each mod page before using them together.
NOTICE 2: Any requests for additional mods to become compatible with this Dark Plantoids Shipset mod will receive due consideration, however, I make zero promises on if the request will be fulfilled. For example, some other ship mods may not be able to become compatible because of a conflict with an already supported mod.