Dark Knight Music Mod For Stellaris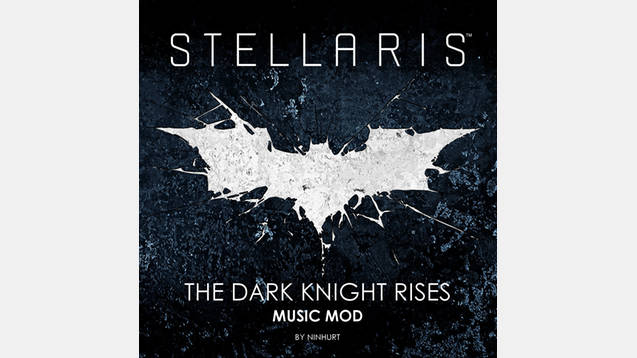 Dark Knight Music Mod For Stellaris
This mod adds the soundtrack from the film "The Dark Knight Rises" to the original Stellaris soundtrack. Works with other mods and compatible with update 1.2.3
The Dark Knight Rises: Original Motion Picture Soundtrack is the soundtrack to the film of the same name, the sequel to Christopher Nolan's 2008 film The Dark Knight. The soundtrack was released on July 17, 2012. The CD edition of the album contains an exclusive code to unlock three bonus tracks, titled "Bombers Over Ibiza (Junkie XL Remix)", "No Stone Unturned", and "Risen from Darkness". Two additional bonus tracks, "The Shadows Betray You" and "The End", are digital-download exclusive tracks. The soundtrack was officially released online for streaming purposes on July 10, 2012.
Track List:
A Storm Is Coming
On Thin Ice
Gotham's Reckoning
Mind If I Cut In?
The Fire Rises
Why Do We Fall?
Death By Exile
Imagine The Fire
Necessary Evil
Rise
The Shadows Betray You
The End
Changes & Compatibility:
– Should be compatible with any other mod (let me know if you have issues)
– Does not deactivate the original soundtrack
– Ironman and achievements compatible
– Updated .ogg files for Mac & Linux compatibly
– Updated to work with other mods and original soundtrack
– Updated all tracks to 320kbit/s
– Added bonus tracks from the original soundtrack release
All credit goes to the amazing artists who create these scores. You can buy this soundtrack on iTunes, Amazon, or stream it on Spotify.
Please give this mod a thumbs up if you enjoy it ????