Cybermen Race Mod Stellaris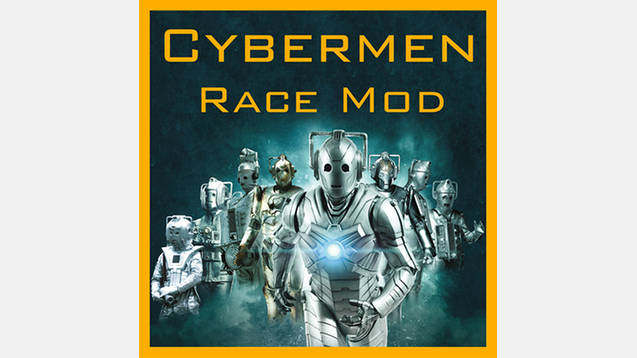 Cybermen Race Mod Stellaris
Version 1.2.3 for Stellaris 1.6.x "Adams"
As a Doctor Who fan, I've decided to create this mod, so I can play as or against the eerie Cybermem.
This mod adds:
7 Playable Cyber races (having each one different portraits):
Mark I Cybermen (The Tenth Planet, World Enough and Time / The Doctor Falls)
Mark II Cybermen (Tomb of the Cybermen, Wheel in Space)
Mark III Cybermen (The Invasion, Revenge of the Cybermen, etc.)
Mark IV Cybermen (Earthshock, Silver Nemesis, etc.)
Cybus Cybermen (Rise of the Cybermen, Age of Steel, etc.)
Mark VI Cybermen (Nightmare in Silver, Death in Heaven, etc.)
Concept art Cybermen (just because)
Playable Cryon race
6 pre-made Cyber empires + Mondasian empire
4 Custom Systems:
Mondas System (when alone)
Telos System (with neighbour Krelos System)
Sol System with Mondas in opposition to Earth
Cyber-Control System
3 new traits.
Custom Cyberman name lists (leaders, ships, planets, armies).
3 new flag symbols.
English, Spanish and Russian localisation.
Future features:
Crystal ships for the Cryons.
More races (Time Lords, Sontaran, Ice Warriors…)
Possible but improvable features:
Custom Cybermen ship models (if I can find someone who knows how to use Maya…)
Animated portraits (the same as above)
If you find any bugs or problems, please let me know ????
———————————————————————————————————————–
Acknowledgements:
Thanks to Holungard for the Russian translation ????
———————————————————————————————————————–
Disclaimer:
Images of Cybermen, Cyber-Planners, Cyberman logo, etc are property of the BBC. I do not claim ownership of the images used in the mod.
———————————————————————————————————————–
Check out my other Doctor Who mod!:
Dalek Empire Mod
———————————————————————————————————————–