Alternative Flag Mod For Stellaris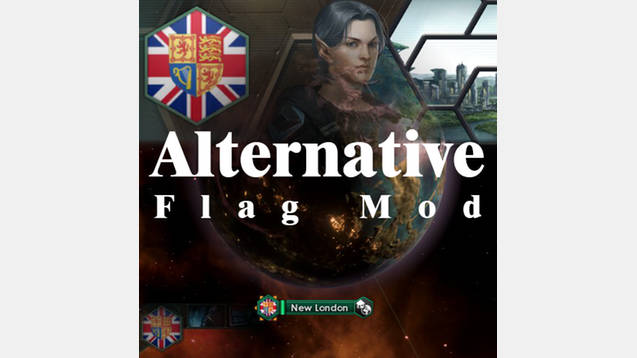 Alternative Flag Mod For Stellaris
Alternative Flag Mod
This MOD is designed to fill the entire flag with a hexagonal frame.
* After install this mod
– Primary Color : National Color (Galaxy Map)
Flag Image : 186*186px (*.dds, 8.8.8.8 ARGB 32bpp)
Flag icon Image : 32*32px (*.dds, 8.8.8.8 ARGB 32bpp)
* How to Making Flag for This MOD?
1) Download this File
2) Unzip This file
3) Run Photoshop. (With DDS Plugin.)
4) Load Flies. (Flag Icon.psd, Flag.psd)
5) Paste Image into "Paste Layer"
6) Save As dds File. (8.8.8.8 ARGB 32bpp)
7) Make Galaxy Map Flag Icon (256*256px, Transparent Background, 8.8.8.8 ARGB 32bpp)
8) Paste DDS Files into mod Folder and Make Your Flag Mod.
9) Play Stellaris whit This MOD and Your Mod.
* 1.5.x and Ironman Compatible.
Change Log :
v1.0 – Release this MOD ????