Alien Suns Mod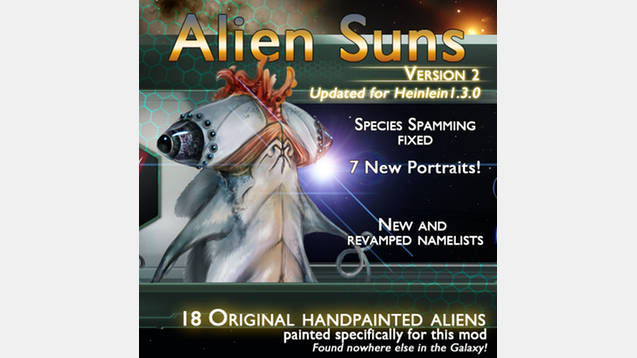 Alien Suns Mod
Updated for Adams1.6.1
Updated for Adams1.6.0
April 21 Removed wall papers – may set up a concept art wall paper mod for those interested later.
This will be the last update for a while (not counting version updates), as I will be focusing on getting the Outer Rim launched in the next couple of months
Updated for Banks/Utopia 1.5.1
A note on species frequency
One thing that I've found is that the portraits show up a lot less now that they're all in one phenotype. They're still in game, but they're happening so less frequently now that I was seriously questioning whether or not I made a mistake. Happily, though, after a few play throughs I started seeing them again as random empires, which is what I wanted!
That's it for now! Thanks for the support, and for choosing my mod!