A_UberDreadnought 5-Section Patch Mod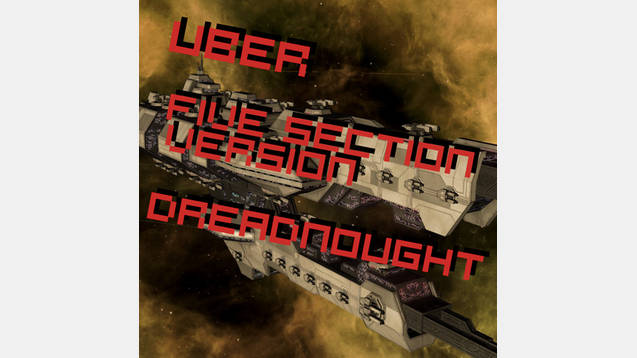 A_UberDreadnought 5-Section Patch Mod
CREDIT TO "Tobori" FOR TEACHING ME HOW TO ADD LOCATORS
HIS MOD
PLEASE RATE AND FAVORITE IF YOU LIKE IT
A patch of my UberDreadnought mod with 5 sections. It is a little bit more powerful due to having about 7 more Large Utility Slots, but the number of guns and stats are the same. Refer to main mod for details.
//COMPATIBILITY//
Requires a 1080p mod to see all 5 sections. If you dont have that, you cant really use this patch.
Requires my other mod, otherwise is compatible/incompatible with everything else the base mod is compatible/incompatible with.
//NOTE ABOUT UPDATES//
The main mod is the one that really needs updating, this one should work even if the version number is outdated. Expect updates to be a bit later than the other one, and the only content updates to be new sections.
Also the "A" in front of the name is to ensure that it loads after UberDreadnought and thus correctly overwrites it.
//SECTIONS//
(In format Weapons || Slots)
I know that these maybe be out of order but I don't want to change the names of each section when I add a new one.
Part 1:
Alpha: 4 XL, 6 L || 9 L, 2 A
Bravo: 3 XL, 6 H, 1 L, 1 M || 7 L, 2 A
Mike: 6 L, 5 T || 12 L, 3 A
November: 2 XL || 14 L, 1 A
This is to support super power draining XL-weapons from other mods (such as BreachCore)
Part 2:
Charlie: 12 L || 9 L, 2 A
Delta: 12 H || 7 L, 2 A
Kilo: 6 T, 8 L || 12 L, 3 A
Part 3:
Echo: 12 M || 9 L, 2 A
Foxtrot: 4 M, 6 H || 7 L, 2 A
Lima: 6 T, 6 M || 12 L, 3 A
Part 4:
Kilo: 8 L || 9 L, 2 A
Lima: 8 H || 7 L, 2 A
Part 5:
Golf: 12 S || 9 L, 2 A
Juliet: 3 H, 6 PD || 7 L, 2 A
//KNOWN BUGS//
Bravo Section doesn't display all the slots when you are on the section selection screen. Has no impact on gameplay and is a Stellaris bug that I can't fix.
//CREDITS//
Again, "Tobori" was a great help in making this mod.
Paradox devs for their game and making it easily moddable.